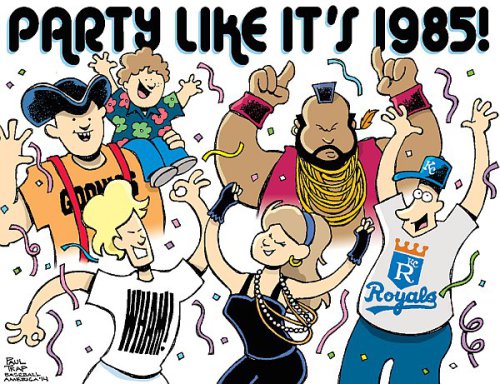 As crazy as it might seem, Loyola's last appearance in a postseason tournament was in 1985.
On March 21, 1985 #14 Loyola—riding a 19-game winning streak—faced off against Patrick Ewing and defending National Champions Georgetown in the 1985 NCAA Tournament Sweet 16.  Despite carrying a two point lead into the locker room at halftime, the Ramblers lost the game 65-53 as Ewing asserted control down the stretch.  It remains Loyola's last postseason tournament game.
True, there have been several close brushes with postseason appearances for the Ramblers since then.
In 1987, Loyola won a share of the Midwestern Collegiate Conference regular season title, but was eliminated in the second round of the conference tournament by eventual champion Xavier.
In 2002, the Ramblers reached the Horizon League championship game as a five seed.  With characteristic heartbreak, Loyola lost by one point in overtime as a half-court shot skipped off the rim.  Almost immediately following that game, the Horizon League made draconian changes to the conference tournament format with the aim of preventing lower seeded teams from winning the auto bid.
And in 2007, Loyola lost a conference tournament semifinal overtime game to #18 Butler by one point as yet another last second shot failed to drop.  Finishing that season at 21-11 with an RPI of 101—a year before the creation of the CIT and CBI—the Ramblers were yet again a basket or two away from an NIT bid, and out of luck for a postseason spot.
Now Loyola is in a different conference—thanks perhaps in some part to lingering resentment over rule changes in the Horizon that many perceived as specifically targeting Loyola for disadvantage.  Would Loyola have left the Horizon League—as the last remaining founding member—if the rules hadn't been changed in reaction to their brush with a postseason bid, and if there hadn't been a decade-long perceived bias toward promoting all things Butler?  Probably– and especially so after Butler departed a year before Loyola had the opportunity to jump.  But if the HL had conducted itself fairly, the searing desire to escape the Horizon might not have been there, and the Horizon might have been a more comfortable and successful conference for all concerned.
One of the many superior aspects of the Missouri Valley Conference is its highly equitable conference tournament format.  Held at a neutral site, with one bye for the top six teams, it's a format that promotes strength across the board instead of reinforcing dominance of elite programs.  The conduct of the league promotes equity in a way that benefits all league members in a way that puts the shame of the cynical Horizon League policies in stark contrast.  As a result, eight of the 11 schools that have been members of the MVC over the past three years have reached some sort of postseason tournament, the only three exceptions being Loyola, Southern Illinois, and Bradley (see chart below).
As the newest member of the MVC, building for the long term is the goal for Loyola.  At last, the Ramblers are in a league with a philosophy that promotes development rather than preventing it through "protecting" the already favored.  Many teams build their programs by getting into lesser postseason play, getting experience competing at that level, and using that experience to improve their tournament bids the following year.  Achieving the incremental benchmarks also helps sustain or build fan interest over time.
Wichita State didn't just get to the NCAA Final Four suddenly in 2013; they won a game in the 2009 CBI tournament, reached the 2010 NIT, won the 2011 NIT, and lost a close game in the 2012 NCAA while building toward that Final Four run.  Loyola didn't just suddenly win the NCAA Tournament in 1963; they first gained important experience by winning the third place game in the 1962 NIT with a sophomore-heavy team, after losing in the semi-finals to the eventual champion.
What does it take to get to postseason play?  Here are a few MVC team season profiles (at the conclusion of Arch Madness) that have reached postseason play:
Conf. RPI Rank: 11   NCAA Team: Wichita State (auto)
2013-14 Indiana State  NIT    Record:  23-10 (12-6) RPI: 71
2013-14 Missouri State  CIT   Record: 20-12 (9-9) RPI: 85
2013-14 Illinois State   CBI   Record: 16-15 (9-9)  RPI: 134
Conf. RPI Rank: 8  NCAA Teams: Creighton (auto), Wichita State (at large)
2012-13 Indiana State  NIT  Record: 18-14 (9-9)  RPI:  72
2012-13 Northern Iowa  CIT  Record: 18-14 (11-7) RPI:  83
2012-13 Evansville  CIT  Record:  18-14 (10-8)   RPI: 106
Conf. RPI Rank: 8   NCAA Teams: Creighton (auto), Wichita State (at large)
2011-12 Illinois State NIT  Record: 20-13 (9-9)   RPI: 100
2011-12 Northern Iowa  NIT  Record: 19-13 (9-9)   RPI: 73
2011-12 Drake  CIT  Record:  17-15 (9-9)   RPI: 134
2011-12 Evansville CBI  Record:  16-15 (9-9) RPI: 131
2011-12 Indiana State CIT  Record: 18-14 (8-10) RPI: 129
This season the MVC is ranked 10th in Conference RPI, and barring spectacular collapses both Wichita State and Northern Iowa will receive NCAA bids.
At this writing– with six games remaining in conference play before Arch Madness– Loyola is in danger of squandering its best start in decades and missing out on a postseason birth.  In order to make a case for a postseason spot, the Ramblers will need to win four of the remaining six, or win multiple games in St. Louis.  There is a favorable schedule in which to do it—four out of the six remaining games are against teams with losing records.
The entire Rambler community–  players, coaches, fans, administration, students, band members, family members, neighborhood residents, and casual observers—need to band together to erase this shameful and dismal streak.  We all need to do our parts to get the monkey of this three decade postseason drought out of the way this year—not only to build for a better, healthier, and more vibrant season next year, but to reverse the inertia that keeps us from moving forward.  A postseason appearance– at any level– will help innoculate the team from adversity next year, and bury a mental stumbling block that haunts fans, players, and the entire Rambler community.