Saturday, March 31, 2018 5:09 p.m.
The Alamodome, San Antonio, Tex.
For a discussion of the 1964 NCAA Tournament game between Loyola and Michigan, and the disputed traveling call, click here.
After reaching their first Final Four in more than five decades, the Ramblers had a chance to celebrate for about 2 hours before discovering their national semifinal opponent. The game between Florida State and Michigan showed that both teams bidding for a berth against Loyola in San Antonio had significant strengths and a few weaknesses. After watching the game, most Loyola fans are probably happy that they won't have to face the length and athleticism of Florida State. Still, they have to face a Big 10 powerhouse in the 32-7 Michigan Wolverines.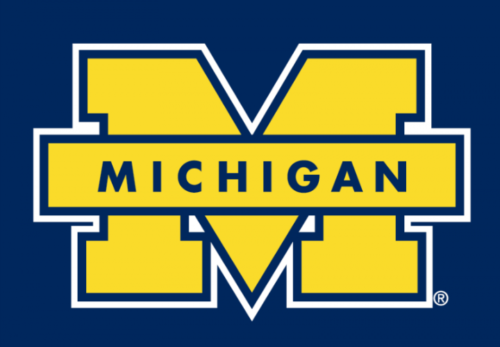 Want to get scared and intimidated? In the NCAA Tournament national semifinal, Loyola faces a Big 10 team—the Power 5 conference in Loyola's own backyard. They face a team that won their tough conference tournament and won 13 games in a row dating back to Feb. 3—the second longest winning streak in college basketball. They're a powerful defensive team, allowing opponents an average of only 63.1 points per game (8th best in the nation). They have three players averaging in double-digit points per game and are among the best shooters in D1 basketball with a 47.0% field goal percentage (56th in the nation)– and their 351 threes rank 18th in D1 hoops.
Pretty scary, huh? Unfortunately for the Michigan Wolverines, they're facing a Loyola team that won its conference regular season (by four games) AND its conference tournament. They're facing a team that has won 14 games in a row dating back to Jan. 31, the longest current winning streak in men's college basketball. They're facing a powerful defensive team that allows opponents an average of only 62.4 points per game (5th best in the nation). Five Loyola players average in double-digit points, and Loyola has the third best field goal percentage in the nation (50.9%) while shooting 40.0% from behind the arc (16th best in the nation).
The Wolverines played a relatively weak non-con schedule, and nearly made the worst of it. Because they lost the opening game of their MTE against LSU, they ended up playing Division II Chaminade and VCU on their trip to Hawaii instead of Notre Dame and Marquette. They lost a road game at North Carolina, and split their first two Big 10 conference games, leaving them on December 5th at 6-3 overall and 1-1 in conference with their best RPI win at home against Indiana (125). Michigan's RPI was 220 going into week 4, while Loyola's was 183.
During the last three weeks of December, the Maize and Blue won four non-con games, including a home win over UCLA and a roadie at Texas. And when conference play resumed, Coach John Beilein's squad won their first two games to get back above .500 in conference for good. Michigan took care of business in the Big 10, impressing everyone with a 10-point road win over Michigan State on Jan. 13, and knocking off conference leader Ohio State in their home game against the Buckeyes. But there were some chinks in the armor: U of M was swept by Purdue in the regular season, split with Northwestern, and lost by 20 at Nebraska.
The loss at Northwestern on Feb. 6 was their last. The Wolverines won their last five regular season games to surge to a tie for 4th in the regular season standings. Then 5th-seeded UM knocked off Iowa, Nebraska, Michigan State, and Purdue in four consecutive days to win the B1G Tournament at Madison Square Garden.
Winning the B1G Tournament tends to go a long way with the committee, so Michigan got a 3 seed in the NCAA Tournament, two spots higher in the Big Dance than their seeding in their conference tournament. They beat 14-seed Montana, got a last-second 35-foot three-point prayer to beat 6-seed Houston, demolished 7-seed Texas A&M by 25 points, and ground out an ugly slog of a win against 9-seeded Florida State. They had whatever it took in several very different styles of play to get to the Final Four. And now one of these teams that was on no one's radar as a serious, deep-run tournament threat after week four of the season is going to play for a spot in the National Championship game.
This is Michigan's third straight trip to the NCAA Tournament, and their 8th in the last 10 seasons. Their 3-seed in this year's tournament is their second highest seeding after getting a 2 seed in 2013-14, the year after they lost in the title game. Loyola and Michigan met in the 1964 Sweet 16, with Michigan winning 84-80. Loyola won the last meeting between the two teams on Feb. 1, 1969 at Chicago Stadium, leaving U of M with a 2-1 advantage in the series.
LINEUPS
Michigan is likely to start 6'6" junior guard Charles Matthews, 6'4" senior guard Muhammad-Ali Abdur-Rahkman, 6'0" sophomore guard Zavier Simpson, 6'11" junior forward Moritz Wagner, and 6'7" freshman forward Isaiah Livers. Abdur-Rahkman is the dynamic leader of the Wolverines, and leads the team in minutes (35.7) and assists while averaging 12.8 points per game. More than half of Abdur-Rahkman's shots come from behind the arc, where he's connected on 71 threes while shooting 38.8%. Wagner (cue Flight of the Valkyries) is UM's top scorer and rebounder with 14.3 and 6.9; his really great three-point shooting for a big man (59 made threes and 39.6% shooting) has probably surprised many opponents. Wagner leads the team in fouls (115) and disqualification from fouls (3), but if you're thinking that fouling him out is the answer to your troubles, don't bother. Michigan is 14-3 in games where Wagner has four or more fouls, and 3-0 in his three disqualifications.
Chicagoan Charles Matthews (St. Rita) is a transfer from Kentucky, and averages 13.0 ppg and 5.6 rpg; he's an acceptable three-point shooter (32%), but really excels at finishing around the basket. Matthews can be prone to turnovers, but he has taken better care of the ball lately, outside of a five turnover game against Montana. Zavier Simpson is the quick playmaker for UM, who leads the team in assists (3.7 per game) and scores 7.5 points on average. He's not a great shooter from distance, but finishes well at the basket.
The top bench players are 6'8" senior forward Duncan Robinson, 7'1" center Jon Teske, 6'1" grad transfer guard Jaaron Simmons, and 6'5" freshman guard Jordan Poole. Robinson is a senior who plays starter's minutes and takes most of his shots from the perimeter. Despite being 6'8", he can play the 2 or the 3, which provides a lot of flexibility. Robinson averages 9.5 ppg and is the best foul shooter by far on one of the worst free throw percentage teams in the country. Teske is a sophomore big man who averages 3.5 points and 3.3 rebounds; he's gone for two double-doubles and scored 14 in the conference tournament final against Purdue. Simmons averages only 1.5 points per game. Poole averages 6.2 points per game and hit the game-winning three-pointer against Houston. Few other U of M players see meaningful minutes.
(For a helpful scouting breakdown on all the U of M players, you can read these two reports from Michigan fans posted on Ramblermania.)
STATS
Loyola looks fantastic if you go by raw numbers, but most college hoops observers will downplay Loyola's stats as primarily coming against inferior mid-major competition. However, Loyola averages almost the same or even BETTER against tournament quality teams than they have for the season, and all of Loyola's tournament quality games (Florida, Miami, Tennessee, Nevada, Kansas State) have come on the road or at neutral sites:
| | | |
| --- | --- | --- |
| | P5/Ranked | Overall |
| Points for/against | 67.8/62.6 | 72.0/62.4 |
| Field goal pct. | 52.4 | 50.6 |
| Opp FG pct. | 41.3 | 41.4 |
| Three point pct. | 42.9 | 40.0 |
| Opp Three point pct. | 26.4 | 32.6 |
(Note: Loyola also defeated Wright State in non-conference regular season play; they were a 14 seed in this year's tournament).
Loyola and Michigan play very similar styles. Michigan is a slightly better rebounding team, enjoys playing at a slightly faster pace, and has a small edge in steals, blocks, and taking care of the ball. Loyola is a slightly better shooting team, both from the field and from the line. Michigan tends to play their best in a game with the pace factor (possessions per 40 minutes) from 66-71, while the Ramblers play a more deliberate pace (59-67). KenPom.com ranks Michigan 4th in Defensive Efficiency, and Loyola at 18th. Michigan ranks 30th in Offensive Efficiency while the Ramblers rank 60th.
The Ramblers are a decided underdog yet again, as they have been for every game of the tournament. Loyola hasn't seemed intimidated by the big stage up 'til now, but the Final Four will kick all of the hype and hysteria up another notch or two.
KEYS TO THE GAME
Here are some things Loyola will need to do to beat Michigan:
Dictate the pace. Michigan has the ability to win playing slow or fast and loose, but they prefer to manage their scoring into the mid-70s. When the games are in the low 60s or below, they tend to have a little trouble.
Shoot better than 50%. Teams have beaten Michigan averaging less than 50% on field goals, like Northwestern (40%), Purdue (47.4%) and Ohio State (48.9%). But all four opponents who shot over 50% against Michigan won their game. And Loyola has shot 50% or better from the field 24 times this season, winning all 24 games.
Get to the free throw line. Michigan is 14-6 when putting their opponents on the free throw line 16 or more times, which sounds like a pretty good record. But that accounts for all but one of their losses. And three of those wins came in overtime, and one came on Jordan Poole's last-second bomb for the win over Houston. When opponents shoot fewer than 16 free throws, they're 18-1. The Ramblers average 17.4 trips to the line in their wins, but only 15 in their losses.
Hold Michigan to less than 30% three-point shooting. The Wolverines are 7-5 when shooting less than 30% on threes, and the Ramblers are 15-0 when holding opponents under 30% from behind the arc.
Move the ball! The Ramblers have gotten away with being sloppy with the ball the past few games, averaging 12.8 turnovers in the tournament and 15.5 in the past two games. Meanwhile, Michigan has averaged only 9.8 turnovers in the tournament and only 8.3 over the last three games. Assists are especially important, as the Ramblers are 31-0 when making more or equal assists than their opponents, and the Wolverines are 1-4 when opponents win in assists.
LINKS