Wednesday, January 31, 2018 7:00 p.m.
Carver Arena, Peoria, Ill.
Bradley is simply a different team at home than they are on the road. The Braves are 11-0 in the friendly confines of Carver Arena, and the only remaining MVC team that's undefeated at home. The Braves average 71 points on offense at home, but only 64.6 on the road. That's a significant difference, but the major difference between the "home" Bradley and the "road" Bradley is on defense—the Braves give up an average of 71.1 points to opponents on the road, but only 54.8 points on average at home. To illustrate the difference, on Jan. 6 Bradley was demolished at Evansville by a score of 68-44. Two weeks later at Carver Arena, the Braves beat the same team by a score of 66-53.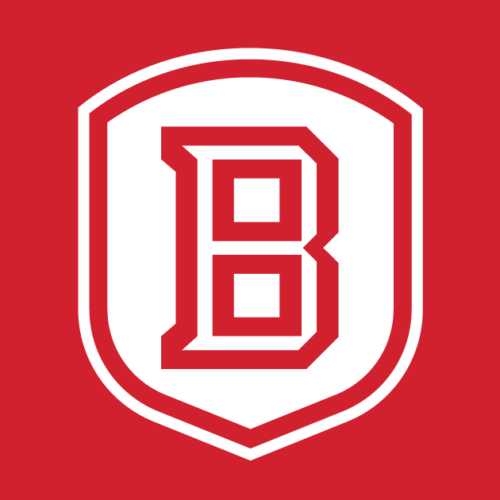 Loyola handled Bradley fairly easily in their first matchup of the season, winning 81-65 on Jan. 13 at Gentile Arena in Chicago. Cam Krutwig had a monster game, leading the Ramblers in points (21) and rebounds (13) for the first double-double of his career, and career highs in both categories.
After the Loyola game, Coach Brian Wardle removed 6'11" sophomore Koch Bar from the starting lineup and replaced him with 6'7" freshman forward Elijah Childs. The rest of the starters are the same: 5'10" sophomore point guard Darrell Brown, 6'4" junior guard Dwayne Lautier-Ogunleye, 6'3" sophomore guard Jayden Hodgson, and 6'7" senior forward Donte Thomas. The new starters have won three of their last four games, including three in a row, and their first road conference game last time out.
Donte Thomas is the lone senior on the Bradley roster, and averages 10.3 points and a team-leading 6.9 rebounds and 1.0 steals per game. He's really picked up his game since playing Loyola, averaging 11.8 points and recording two double-doubles. Elijah Childs has thrived since joining the starting lineup; he went for 12 points and 12 boards against Missouri State last Wednesday, and now averages 8.5 points and 6.2 rebounds. The defense of Childs and Thomas helped to hold MSU's Alize Johnson to only seven points and five rebounds in Bradley's 72-52 win.
Darrell Brown is the sparkplug for Bradley; the 5'11" guard leads the team in minutes, field goal attempts, free throw attempts, assists, turnovers, and points per game (13.4). He is a dangerous three-point shooter (39.4%), and he adds some energy and emotion to a Bradley team that is often reserved. Joining him in the backcourt are Hodgson, a three-point threat who averages 4.7 points per game, and one of the original Wardle recruits Lautier-Ogunleye, a tenacious defender who averages 6.3 points and 4.9 rebounds.
Coming off the bench, Koch Bar is a good rim protector—he averages 5.1 points and 3.8 rebounds per game. He contributes some blocks, but is prone to fouls. Six-six sophomore guard Nate Kinnell is from nearby Metamora, Ill., and leads the team in made threes while averaging 9.3 points per game. Kinnell was 7 for 9 behind the arc and had a game-high 25 points in Bradley's last outing, an 81-73 win at Indiana State. Luuk van Bree, the 6'9" junior forward, adds 5.3 points and shoots 46.5% from behind the arc.
At 16-7 overall and 6-3 in conference with eight regular-season games to go, Bradley is on pace for their best season since at least 2008-09. Fans are starting to make their way back to Carver Arena, where Bradley leads the league in home attendance with an average of 5126 per game. There were 6285 at BU's game against Evansville, the third largest home crowd in the league this year after the Illinois State home game against the nearby Braves and 6355 when UNI hosted #8 Xavier.
The Ramblers have also surged since they last faced the Braves. Loyola has won all four games since their meeting with Bradley, winning the last four games by an average of 19 points. Four different players have led the team in scoring in the last five games as Loyola's win streak has stretched to seven—the longest conference winning streak for the Ramblers since 1984-85. Loyola's 6'1" junior point guard Clayton Custer, the MVC's reigning Player of the Week, has surged to the forefront of MVC Player of the Year conversation during that stretch.
With Loyola in first place and Bradley tied for second, expect the Peoria media to call erstwhile Bradley fans out to Carver Arena. The Braves and Ramblers have a long history, beginning in the 1927-28 season and including 58 contests over 91 seasons, with Bradley holding a 33-25 advantage. The Ramblers are 8-3 against the Braves since joining the MVC, and 3-1 at Carver Arena, including the last three trips to Peoria. On Nov. 27, 1982, Bradley beat Loyola 90-82 in the inaugural game in Carver Arena. Loyola freshman guard Lucas Williamson won a state title on that floor last March, and Donte Ingram was a junior on the 2013 Simeon state title won there.
Loyola game notes: http://www.loyolaramblers.com/documents … df?id=5827
Bradley game notes: Pending
TV/Streaming video: NBC Sports Chicago / http://www.espn.com/watch/_/id/3245467/ … basketball
Stats: http://www.sidearmstats.com/bradley/mbball/
Vegas odds: Pending