Saturday, February 10, 2018 1:00 p.m.
Hulman Center, Terre Haute, Ind.
Just three weeks ago, Indiana State was making a bid to be one of the top four teams in the MVC. On Jan. 20, Coach Greg Lansing's crew demolished Illinois State 84-54 before 5100 fans at the Hulman Center in Terre Haute. The win put the Sycamores at 5-3 in conference, with a road win over the Ramblers and their three losses by a combined nine points.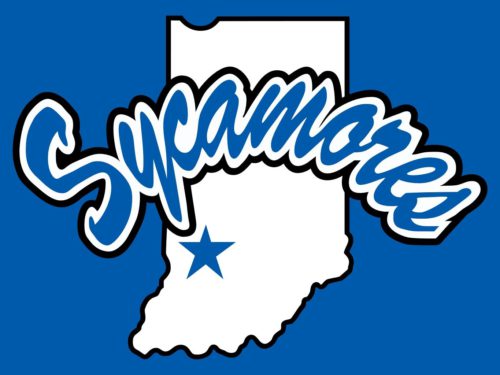 But in a league with the kind of parity the MVC has this season, the long scoring droughts the Sycamores often suffered began to catch up with them– and fast. Consecutive losses at SIU, at home against Bradley, and at Valparaiso put the Trees in negative territory. A road win against UNI brightened their prospects and brought them back to break even, but a 19-point drubbing at home by an MSU team lugging around a 5-game losing streak nipped that optimism in the bud.
Inconsistency has been the problem all year long for the Trees. You never know whether you're getting the team that beat Indiana and Loyola on the road, or the team that has lost home games to Ball State and Elon.
Indiana State has a starting lineup of 6'7" center Brandon Murphy, 6'8" forward Devin Thomas, and three high-scoring guards: Jordan Barnes, Brenton Scott, and Quiydar Davis. Barnes is a speedy 5'11" sophomore who can be explosive on offense. Barnes averages 17.2 points and 3.6 rebounds per game, and has already connected on 92 threes this season, which leads the league by a wide margin. Scott, a 6'1" senior, is nearly as dangerous, averaging 15.2 points and 5.6 rebounds. Davis is a 6'5" grad transfer from Louisiana Tech who puts up 10.3 points and 4.7 rebounds while shooting 54.6% from the field.
Freshman guard Tyreke Key (currently under concussion protocol and may not be available), 6'9" junior center Emondre Rickman, 6'8" sophomore forward Bronson Kessinger, and 6'6" freshman guard Clayton Hughes are the top players from the bench.
The Ramblers are coming off a 72-57 home win over Drake that equaled their best conference win total since 1985. Loyola is 4-2 this year in conference road games, but they're 1-3 at the Hulman Center since joining the MVC. The Sycamores beat Loyola 61-57 at the Gentile Arena on Jan. 3 this year, led by Brenton Scott with 16 points and Brandon Murphy with 12.
Before the game, Indiana State will be honoring Clarence Walker, a pioneering African-American player from the late 1940s, who was recruited to ISU by Coach John Wooden.
Loyola game notes: http://www.loyolaramblers.com/documents … df?id=5845
Indiana State game notes: http://gosycamores.com/documents/2018/2 … 6Notes.pdf
TV/Streaming video: ESPN3 / http://www.espn.com/watch/_/id/3273295/ … iana-state
Stats: http://www.sidearmstats.com/indstate/mbball/media/
Vegas odds: Pending