The 2017-18 Loyola Ramblers enter the season having addressed most of their pressing needs that were obvious during the 2016-17 season: depth, size, rim protection, inside/post-up offense. The Ramblers return three starters and the league's sixth man of the year from a team that looked poised to finish in the top three last season before running out of gas late. As a result, most college basketball analysts and observers are picking the Ramblers to challenge for the league title this season.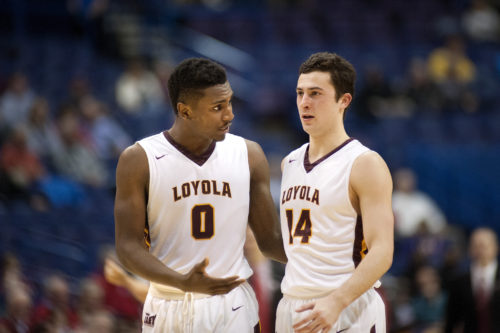 Source
Led by MVC preseason first-teamers Donte Ingram and Aundre Jackson in the frontcourt (both seniors) and the guard combo of lifetime friends Ben Richardson and Clayton Custer (a senior and a redshirt junior), Loyola will have one of the most experienced teams in the league.
Donte Ingram caught fire after an early-season injury last year, and closed out the 2016-17 season averaging 15.1 points and 7.3 rebounds per game over his last 21 contests. His late season performance and clutch shots earned him all-MVC Third team recognition after his junior season and he is poised to enter Loyola's 1000 points, 500 rebounds club midway through non-conference play. Ingram has improved each and every year and has added a new facet to his game each season. Last year, he became a deadly three-point shooter, and the new inside players for the Ramblers this year could allow him to do even more.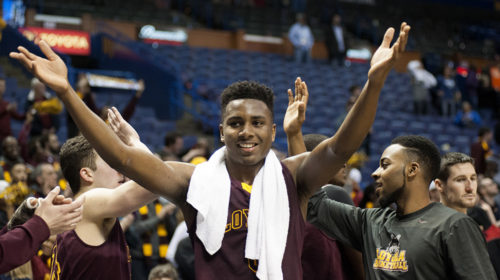 Source
Senior Ben Richardson has been a starter since midway into his freshman year, mostly based on the fact he has been the best—or at least hardest-working—defensive player on the team since he set foot on campus. The past two seasons, he's also been one of the best three-point shooters in the MVC, and currently ranks as the 9th top three-point shooter in Loyola history with 118 made threes.
Last year Clayton Custer often traded off playmaking responsibilities with Milton Doyle. In his first year as a Rambler after limited time with Iowa State and a year sitting out, Custer played very well, averaging 11.6 points and 3.0 assists while cracking the league's top ten in assists and made three pointers. More of the playmaking and a little less scoring is likely to be on Custer's plate this season, in his redshirt junior year. Also look for Custer to be more active on defense. Curiously, in games against conference foes last year, Loyola was 2-9 in games where Custer scored in double figures and 6-2 in games where he scored less than 10.
Senior Aundre Jackson was tabbed as an MVC Preseason First Team performer in 2017-18 after averaging 14.1 points, 4.2 rebounds, and finishing 4th in the nation in field goal percentage last year. As a player, his efficiency is off the charts, and at only 6'5" he takes many opponents who haven't seen him before by complete surprise. Despite only starting 8 of 32 games last season, Jackson will likely start the majority of games this year, and Coach Moser has touted Jackson's conditioning in the off-season.
Shooting guards Bruno Skokna (3.4 ppg) and Cameron Satterwhite (3.0 ppg) are back for their sophomore seasons and are likely to play double digit minutes once again. Both showed great promise at times, but they need to make a jump in consistency and skills. Satterwhite has length, quickness, and long strides, but sometimes seems to lose focus and a competitive edge. Skokna has good instincts for rebounding, takes care of the ball and works hard, but needs to work on positioning to neutralize quicker players.
When it comes to correcting the needs of last year's team, most of the difference comes in the person of 6'9" Cameron Krutwig out of Jacobs High School in Algonquin, one of the top area recruiting prizes for the Class of 2017, and the 18th best prospect at Center in the country according to VerbalCommits.com. He is going to be a top early candidate for MVC Freshman of the Year.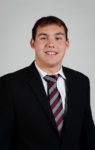 Where Krutwig probably makes the biggest difference is his maturity at the position. He played four years at Jacobs and ranked 4th on their all-time scoring chart and 1st in rebounds en route to a 93-29 record and three regional championships. He averaged 2 blocks and 2 assists per game over the entirety of his four-year career, showing versatility, footwork, and passing ability. Early reports are he has worked hard in preparation for this season, dropping excess pounds, improving conditioning, and hitting the weight room. He will likely be the most effective freshmen big men at Loyola since the best seasons by Ben Averkamp and Walt Gibler almost a decade ago.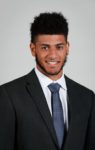 Helping out Krutwig in Loyola's new-look frontcourt is 6'7" forward Christian Negron from Larkin High School in Elgin. The super-athletic forward has a 3.5-star rating from VerbalCommits.com, but he is coming off a knee injury that caused him to miss his senior season in high school. As a junior, Negron put up 16.2 points, 11.8 rebounds, 4.2 assists, 3.0 blocks and 2.2 steals while earning all-state recognition. If Negron is healthy and contributing from an early point in the season, the Ramblers have the potential to go beyond St. Louis.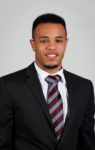 The biggest personnel loss for the Ramblers is obviously Milton Doyle, who earned Loyola's first MVC first team honoree in 2016-17. Doyle's role will be filled by 6'4" Marques Townes, a transfer who led his Fairleigh Dickenson team to the NCAA tournament in 2015-16. At 210 pounds, Townes' game is driving to the basket for a layup or getting to the line—an important weapon the Ramblers haven't had in a while. In the first two years of his college career, Townes has connected on 57.2% of his two-point field goal attempts, and averaged 10.5 points per game during his freshman and sophomore seasons. His quickness to the ball also earned him 210 rebounds in his first two seasons. Townes seems like a quintessential MVC player, and his toughness, experience and athletic ability is going to go a long way toward mitigating the loss of scoring, athleticism, and leadership from Milton Doyle.
The Loyola bench is also improved from the addition of 6'4 freshman shooting guard Lucas Williamson, 7'0" graduate transfer Carson Shanks, and 6'5" juco guard Adarius Avery. Avery was likely to be the biggest contributor of this group as the second highest scorer nationally at the juco level last season, but he sustained an early summer injury that will almost certainly have him taking a medical redshirt this year. Williamson led Whitney Young to the state 4A championship over Simeon last year, and promises to add a lot of potential to the bench. Shanks, a transfer from North Dakota, will add height and potential to take advantage of some mismatches (he scored eight points or more in 11 games off the bench last year, including two games against teams Loyola plays this season). And like Townes, Shanks' last game before transferring to Loyola was in the NCAA Tournament.
Correcting the depth problem is key. Last year's Loyola team had only five players averaging over 17 minutes per game, and only seven averaging in double digits. Four Loyola players averaged over 31 minutes per game. For comparison, conference co-champ Illinois State had zero players averaging 31 minutes or more, seven averaging over 17 minutes per game, and nine players averaging double-digit minutes. Going around the MVC last season, Southern Illinois was the only other team that didn't have at least nine players averaging double-figure minutes (they had one player at 9.9 mpg), and only UNI had as many as three players logging more than 31 minutes a game. Running out of gas on late-game comebacks and allowing too many easy baskets in do-or-die late game situations seemed like a hallmark of the 2016-17 season. Loyola lost their last four conference road games, all four by two points or less.
Look for Coach Moser to expect 25-30 minutes per game from a core four—Ingram, Richardson, Custer and Townes. Aundre Jackson will most likely average between 20-25 minutes per game, with wider variation and flexibility on his minutes depending on matchups. Guards Bruno Skokna and Cameron Satterwhite will eat up minutes averaging in the high teens. And newcomer big men Cameron Krutwig and Christian Negron (when he gets healthy enough to play) will average in the 15-20 range. There will also be some good experience and specialized skills available coming off the bench in Shanks, possibly playing double digit minutes against certain teams because of matchups. Lucas Williamson will have a chance to learn with 5 minutes a game or so as an understudy at the wing.
This year's schedule is highlighted by one marquee matchup against a college basketball powerhouse, and an intriguing game against a top Mountain West team. Unfortunately, they're both on the road. This year's MTE—-
The Savannah Invitational— is underwhelming in terms of opponents, but takes place at a reasonably close location that's affordable and charming. Beginning the season at anything less than 8-3 against the non-conference Division I opponents would be disappointing.
The key matchups in the conference season have to include the opening conference game at Missouri State on Dec. 22, the road trip to UNI and Illinois State on Jan. 7 and Jan. 10, the home game against Missouri State on Feb. 3, and the final game of the season Feb. 24 against Illinois State at the Gentile Arena. A 12-6 conference record is an eminently reasonable expectation for this Loyola team in this new MVC, but it may take more than 12-6 to win the conference, even in a year with more parity than usual.
Loyola men's basketball after Milton Doyle is going to be different, and will require some adjustments. But the loss of an all-league player with Doyle's skills is going to be mitigated by the addition of Marques Townes, who is experienced and adds the ability to drive with force to the basket. Having three seniors (plus a redshirt junior) on the court most of the time will also help. The added depth, an additional year of experience, and two high-potential and immediate impact frontcourt players make the Ramblers a top contender for the MVC crown in a wide-open race.
Add your comments or discuss with others on the Ramblermania message board.