Tuesday, November 14, 2023 7:00 p.m.
Gentile Arena, Chicago, Ill.
Loyola renews its cross-town rivalry with UIC at Gentile Arena on Tuesday night, facing the Flames for the 60th time in a series that dates back to 1986.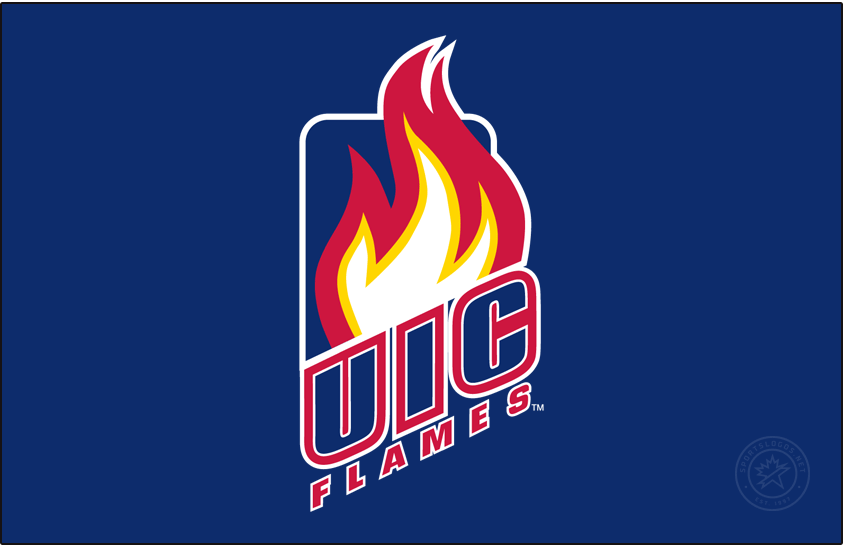 Almost every year since parting company as conference rivals– when Loyola left the Horizon League in 2013– Loyola has played local rival UIC. And almost every time in that span, the Ramblermania pre-game preview has expressed a phrase like: "UIC promises to be much improved over last year." This year, it's almost definitely going to be true.
Since Loyola left the Horizon League, UIC has had only two seasons with a KenPom better than 200. Yet despite their lower performance metrics (including Loyola's rocky first years in the MVC and the A-10), the Flames have mostly been a tough challenge. There are bragging rights on the line, and a lot of the players know each other well. In 2016, Donte Ingram hit a three-pointer at the buzzer to force overtime that resulted in a Rambler win. Loyola eked out a three-point win at home in 2013, and last year's final was Loyola 70, UIC 63. They're usually pretty close games.
Loyola has won the last 10 games against UIC, but still runs a 28-31 deficit in the all-time series against Illinois-Chicago, thanks to a tortuous streak from 1992 to 2005 when UIC won 19 out of 23 games against Loyola. That decade-plus of misery included losing to UIC in the 2002 Horizon League Conference Championship Final– with an auto bid to the NCAA Tournament– by one point in overtime.
But back to UIC's resurgence…. The Flames are entering their second year in the MVC after going 4-16 for an 11th place finish in their inaugural campaign. As Loyola can attest, it's rough making a transition to a new conference. The Flames have re-made their lineup from last year thanks to key transfers and underclassmen stepping up.
Coach Luke Yaklich is in his fourth year on Harrison Street, still seeking his first winning season. The Flames were picked to finish 10th this year in the MVC Preseason Poll, ahead of Evansville and Valparaiso. The new-look Flames impressed in their first game of the year at Cincinnati, losing 69-58. After an 86-71 win over Little Rock, the lineups and roles are appearing more defined, even with some injuries.
The Flames are likely to start two forwards and three guards. Toby Okani is a 6'8″ senior forward who can handle the ball and pass like a point guard. In UIC's season opener at Cincinnati, he had 20 points, 11 rebounds, six blocks and three assists. He's averaging 17.0 ppg, 10.5 rpg, and 3.0 apg through two games. Filip Skobalj is a 6'7″ junior forward who averages 4.0 points, 3.5 boards.
The starting guards are 6'5″ senior Isaiah Rivera (a transfer from Colorado State), 6'4″ junior Ethan Pickett, and 6'4″ sophomore Steven Clay. Rivera had a monster game against UALR: 25 points (4 of 5 on threes), and seven rebounds. Picket is a juco transfer who's averaging 13.0 points and 4.5 rebounds per game. Clay shoots the three well (4 of 6 against UALR), and averages 6.0 ppg and 4.0 rpg.
The top bench players are 6'5″ sophomore guard Christian Jones, 6'3″ sophomore guard Drew King, 6'9″ sophomore forward Jaden Brownell, and 6'10" sophomore center Cameron Fens. Two combo guards that would likely run the point, Marquise Kennedy and Drew King, have struggled with injuries—Kennedy hasn't played a minute in the two games this season, and King has had foot issues keeping him to limited minutes.
UIC played Cincinnati (now in the Big 12) very close on the road to open the season, thanks to the explosiveness of Okani. His passing ability, mobility, rebounding and outside shooting (a respectable 29.3% last year from distance) makes him a matchup nightmare. Loyola may need to throw double teams or try different combos on defense to limit his production. But don't forget about Rivera, who shot 37% behind the arc for Colorado State last year and already has a 25-point game under his belt at UIC. This UIC team is dangerous, particularly if more than one player has a super game.