Thursday, March 15, 2018 2:10 p.m.
American Airlines Center, Dallas, Tex.
Loyola gets their first taste of the NCAA Tournament in 33 years on Thursday as an 11 seed facing the sixth-seeded Miami Hurricanes. It's been a long time coming for the Ramblers, who assumed they'd be very good this year, but probably didn't expect 28-5 record, an RPI of 22, winning the MVC by four games, and a relatively easy nationally-televised win at Arch Madness. At 22-9 overall, 11-7 in the ACC, and sharing a three-way tie for third place in the conference, the Canes had a very respectable season that probably didn't quite live up to expectations.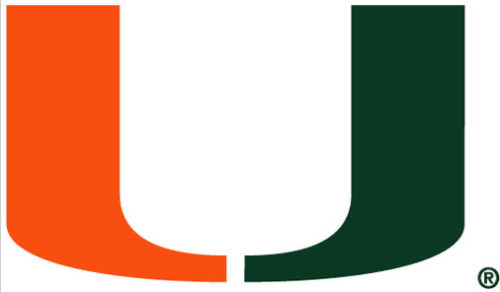 This is the third straight year Miami has been in the tournament. Two years ago, Miami had probably its second-best team ever, led by a tight group of experienced seniors. Guards Sheldon McClennan and Angel Rodriquez lifted Miami to the top of the AP Top 25 for three weeks in February 2016. The Canes earned a 3 seed in the Tournament and defeated Buffalo and Wichita State before falling to eventual National Champion Villanova in the Sweet 16. Last year, a rebuilding Miami team surprised a lot of observers with a 21-11 record and a 10-8 ACC mark got an 8 seed; but they bounced out in the first round of the NCAA Tournament against Michigan State.
The Canes were picked to finish fourth in the ACC preseason poll and 13th in the preseason AP Top 25. Their 2016-17 season was strong, and impressive freshmen Bruce Brown, Dewan Huell, and Dejan Vesiljevic were expected to make a big sophomore improvement. NBA prospect and the country's 11th ranked freshman recruit Lonnie Walker IV was going to be an impact player. Against a parade of not-as-good-as-expected, mediocre or bad non-con opponents, Miami reeled off 11 straight wins to begin the season. Before heading to their pre-Christmas MTE in Hawaii, they were 10-0 with a 86-81 win at then-undefeated and #15 Minnesota as their marquee win.
After winning their first game against tournament host Hawaii, the Canes lost to New Mexico State and eked out a three-point win against Middle Tennessee. Eight games into their conference season, with their record at 4-4, the U was dealt a big blow: sophomore point guard Bruce Brown (11.4 PPG, 7.1 RPG) suffered a season-ending foot injury. The young Hurricanes pulled together and won seven of their last 10 regular season games, including a crucial three-point win at UNC on a running 30-foot buzzer-beater.
Miami had maybe the easiest ACC schedule—only one game against Duke, North Carolina, Clemson, Syracuse, NC State, and Virginia; two games against Pittsburgh (0-18 in conference, 217 RPI) and Boston College (7-11, 95 RPI). Only three of their 11 conference wins came against teams with an RPI better than 60; they were 3-6 on the season against teams with RPIs better than 50, including their one-and-out in the ACC Tournament. Against teams that made the NCAA Tournament this season, they were 5-7.
The 2017-18 Hurricanes are primarily powered by sophomores and freshmen. Their starters are 6'5" freshman guard Lonnie Walker IV, 6'3" senior guard Ja'Quan Newton, 6'7" junior guard Anthony Lawrence Jr., 5'7" freshman guard Chris Lykes, and 6'11" sophomore forward Dewan Huell. Walker and Huell each average 11.5 ppg, with Huell doing his damage in or near the paint and Walker driving and shooting from distance. Half of Walker's shots are from behind the arc, and he hits on about 35% of them (though he's hitting on 42% in the last five games). The loss of Brown for the season allowed for explosively quick freshman Chris Lykes to join the starting lineup, and he's averaging 9.6 ppg while shooting most of his shots outside the arc. The most experienced players on the team are senior Ja'Quan Newton and junior Anthony Lawrence Jr., a long guard who averages 8.9 points and shares the rebounding lead with Huell at 6.6 per game. Newton averages 8.6 points per game and is the best playmaker, with 2.7 assists.
Major players off the bench are Dejan Vesiljevic, Sam Waardenburg, and Ebuka Izundu. Vesiljevic is the main three-point threat coming off the bench; the 6'3" sophomore guard averages 9.0 points per game and leads the team in made threes with 66 of them hit at a rate of 40.7%. Waardenburg is a 6'10" redshirt freshman forward who started earning regular playing time in late January; he averages 3.5 points and 2.9 rebounds. Izundu is a 6'10 junior center who averages 5.0 points and 3.7 boards. Sophomore 7-footer Rodney Miller also gets some minutes.
Like the Ramblers, the Canes share the ball well. They have six players that average between 8.9 and 11.5 points per game. Point guard Bruce Brown was averaging 4.0 assist per game before his injury, but the other guards have taken on a lot of the playmaking. Vesiljevic is the only guard on the bench who gets significant playing time, but the Canes usually keep out of foul trouble. Miami has a good team assist to turnover ratio (1.16). The Canes shoot well from three-point territory, and are one of the better defensive teams in a mostly offense-minded conference. Miami prefers to play at a faster pace, and has trouble against teams with a more deliberate pace. They are 16-2 when they score 72 points or more, but only 2-6 when scoring under 67 points.
Miami Coach Jim Larranaga has five members of his team (plus injured point guard Bruce Brown) who played in last year's 78-58 loss to Michigan State in the opening round of the NCAA Tournament. Larranaga himself has been to eight previous tournaments, including George Mason's trip to the Final Four in 2006.
The Ramblers have been very consistent throughout the season. Except for two unmitigated debacles at Boise State and Milwaukee, the Ramblers have played cool, calm, collected and resolute all through the season. Even on big stages like the game at Florida and at Arch Madness, Loyola has looked confident and sure footed. But this is a different stage, and it will test Coach Porter Moser's leadership and the power of the wall of culture to stay focused and keep the butterflies in check.
Loyola game notes: Pending
Miami game notes: Pending
TV/Streaming video: truTV / http://www.trutv.com/shows/ncaa/index.html
Stats: http://www.statbroadcast.com/ncaa/site.php?sid=mbbb12
Vegas odds: Miami by 2.5