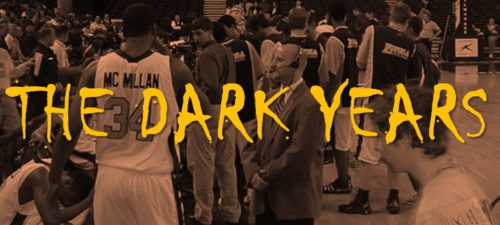 The longtime die-hard fans of the Loyola Ramblers men's basketball team have suffered through some pretty bleak seasons for most of the 33 years since their last NCAA Tournament appearance. In the 2017-18 season, however, the sudden and improbable success of the Ramblers was not only an amazing, happy surprise, it was a bit disorienting.
The month of March had always been a quiet and reflective time for Loyola men's basketball fans, a time when it became a mental health exercise to process the jealousy Rambler fans felt for the Butlers and VCUs and George Masons of the world. It was a time to snort cynical rationalizations against successful Xavier, Dayton, or Gonzaga teams, and wonder in mumbling tones whether our love for Loyola was too much of a burden.
And then, BOOM! The 2017-18 season!
Could it have been any more joyful, from start to finish? Most Loyola fans knew that the team would be pretty good. But winning a conference regular season or tournament is another matter altogether, and something Loyola hasn't done since the mid-1980s. If you're at all like me, you were entranced, amazed, and delighted by EVERY… SINGLE… ELEMENT of Loyola's dramatic run in March 2018. I'm still watching game replays and highlights to make sure it all really happened in the absolutely amazing way it did.
Yes, it did happen, and it happened in exactly that amazing way. Our eyes and ears and other sensibilities aren't betraying us. It was crazy-amazing.
But the last-second heroics, the buzzer-beaters, the clutch last minute steals, and the screaming fans at Damen Student Center and bars around Chicago was even more fantastic than most people know. Because for a decent-sized group of loyal, long-suffering fans, Loyola and the Ramblers had crossed one of college basketball's cruelest and most punishing deserts—a 33-year NCAA Tournament drought—and come out on the other side in college basketball's Eden.
YEARS IN THE WILDERNESS
Only a handful teams in all of college basketball have endured a longer drought between tournament appearances. And aside from one school that dropped entirely from the Division I level after a scandal (CCNY), no other former NCAA Tournament champion has gone through any remotely similar dry spell.
Most of the young people who looked at the gray-hairs going crazy last March had little idea of the 33-year exile from college basketball relevance Loyola fans endured. It wasn't just mediocre– much of it was bad, and a lot of it was incredibly bad. Ignominiously bad. Shameful to the institution bad.
If the modern Loyola Ramblers are to build a resilient fan base with knowledgeable and vibrant fans of all ages, it's important that the younger folks know the full extent of THE DARK YEARS. For a lot of the fans who came along in the 21st Century, they might not know about the worst of the bad years, the ones die-hards suffered through, the worst of the worst years, the long and shameful and embarrassing and hurtful and trying and terrible years.
These were years where there was nobody there, when it was so quiet during the game you could hear planes flying over the roof and the hum of the heating and cooling system at the old Rosemont Horizon. During these years, the basketball team with LOYOLA on their chests was so bad, it felt like serving penance to be a Loyola fan. In the four years from 1992-1996, Loyola had five separate losing streaks of eight games or more, including a 12-game losing streak. In those four awful years, the team won only 11 regular season conference games out of 55 played, and only 23 games total against Division I competition. Four of those 23 wins (and two very embarrassing losses) were against teams from the weakest conferences in men's basketball.
Yes, it's important that everyone has a great time with the recent (and probable future) success of the Ramblers. Young people need to know and experience The Glory, yes. But it's also important that Loyola fans know about the many haunting, tortured years of aimless futility as well. Going over some of the bad decisions and missed opportunities of the past might help sustain success going forward. As a fanbase we can also be proud that we stuck it out through some very bleak years. And so that's where we will begin the tale of…. THE DARK YEARS.