With Loyola basketball's ascension to the NCAA Tournament's Sweet 16 in 1985– before it was even known as the Sweet 16– the Ramblers ended a 17-year NCAA Tournament drought. They also served notice that Loyola was ready to take a prominent place in the Chicago-area college basketball scene.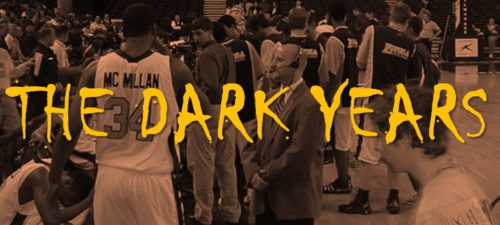 DePaul was the hot college team in town in the late 1970s and early 80s. The Blue Demons made the NCAA Tournament as an Independent team (not affiliated with a conference) in 1976 and for eight of the 10 years between 1976 and 1985. The highlights of that span were four Sweet 16 appearances, Elite Eight appearances in 1978 and 1979, a trip to the Final Four in 1979, and a #1 overall final AP ranking in 1980. The Blue Demons were in the middle of a 21-season streak of winning seasons against Division I competition running from 1974-75 to 1994-95.
Down in Champaign, the Illini mostly sleepwalked through the late 1960s and the 70s, but knocked Loyola out of the 1980 NIT, made the Sweet 16 in 1981, and reached the Elite Eight in 1984 for the first time since Loyola knocked them out of an Elite Eight matchup in the 1963 NCAA Tournament.
Loyola's 1985 Sweet 16 run came as the Ramblers had been moving forward in college basketball in the early 80s, under the radar, mostly unnoticed in the shadow of DePaul and Illinois' spotlight. Loyola, in large part behind the prolific scoring of Alfredrick Hughes, had seen their win total steadily rise four years in a row. By 1984-85, the Midwest City Conference regular season champions entered the NCAA Tournament with a 25-5 record, a 17-game winning streak, a #14 AP ranking, and an automatic bid as the conference tournament champion. The resume resulted in a 4 seed in the 1985 NCAA Tournament, well above DePaul's 10 seed and just below the Illini's 3 seed.
Not so surprisingly, the Ramblers won two games in the tournament and gave the defending champs all they could handle before bowing out. It was a huge year for Loyola, a signal of a program headed upward, and a statement that Loyola was a valid alternative to DePaul or Illinois for local Chicago talent. For Loyola fans, it was especially significant for Loyola to top DePaul's performance in their first year under new head coach Joey Meyer.
The year after the Sweet 16, 1985-86, was going to be a rebuilding year, and everyone knew it. Alfredrick The Great, Andre Battle, and Greg Williams graduated, and took along with them 5,002 career points scored in their combined four years at Loyola. While at Loyola, the trio led the Ramblers to an 83-37 record in four consecutive winning seasons. Senior Carl "Go-Go" Golston led the '86 Ramblers in scoring with 19.6 points per game. Andre Moore put up a solid junior season, averaging nearly a double-double with 17.6 points and 9.9 rebounds per game. But the loss of experience, mid-range shooting, and versatility was a bit too much, and the Ramblers slumped to a 13-16 season. On the heels of an NCAA Tournament appearance, Loyola drew 4270 per game in their last year at DePaul's Alumni Hall.
Expectations were sky-high in Rogers Park from the NCAA Tournament success after 1985. People were talking about an on-campus arena on landfill extending the campus into Lake Michigan. There was a buzz around campus. Recruiting picked up. Highly-touted 6'9″ center Kenny Miller from Morgan Park arrived in 1986 and sat out a season as a Proposition 48 player. Gerald Hayward (a 6'6" forward from Hyde Park) landed at Loyola right after the Sweet 16 appearance, and Sun-Times Chicago area player of the year Bernard Jackson transferred from Wichita State in 1985. Antowne Johnson (a high-scoring 6'6" center), and Keir Rogers (a strong and athletic shooting guard/small forward from Michigan City, Indiana) made an immediate impression in 1987. Keir Rogers' teammate from Michigan City, Keith Gailes, arrived at the same time and began play in 1988 as a Prop 48.
Loyola played well in 1986-87, winning 16 games. Their 8-4 conference record was good enough for a tie with Evansville for the regular season title. Andre Moore averaged 20.6 points, 12.4 rebounds, and 2.3 blocks per game. Moore tied his own Loyola single-season record for blocks with 66, and set the school career record with 176. The Denver Nuggets selected Moore with the 31st pick in the 1987 NBA Draft. Bernard Jackson averaged 22.8 points per game to lead the Ramblers offensively. Late-season surging Xavier won the MCC Tournament that season, however, and also won an opening round game in the NCAA Tournament. It was the third NCAA Tournament berth ever for Xavier, and the second NCAA bid in what would become a string of six straight tournament appearances for the Musketeers. No one could have imagined it would be 15 years before Loyola would have another winning season.
Great performances by newcomers and some impressive recruiting led to an super-high hopes for the 1987-88 season. Loyola would move to a new, exclusive home court: the historic and absurdly-inconvenient International Amphitheater at 4220 S. Halsted Avenue. It was a venue that hosted five major-party political conventions (Republicans in 1952 and 1960, Democrats in 1952, 1956, and 1968) and two NBA franchises in its history. Loyola would be an anchor tenant in the arena's revitalization. But the Amphitheater was next to the long-gone Union Stockyards on the South Side, 1.7 miles from the closest El station (35th & Dan Ryan), and 15.7 miles from Loyola's Lake Shore Campus.
Despite having phenomenal talent in 1987-88, the Ramblers finished below .500 at 13-16. Junior Gerald Heyward finished fourth nationally in points per game at 26.1, behind only Hershey Hawkins, Darren Queenan, and Anthony Mason. Freshman Kenny Miller led all rebounders in the NCAA with 13.6 per game and 395 boards overall, while adding 14.7 points per game… as a FRESHMAN. The Ramblers also had promising performers like freshman Keir Rogers (3.1 ppg, eventually one of Loyola's top-10 scorers), junior Antowne Johnson (8.6 ppg, 4.8 rpg), and redshirt junior guard Keith Carter (11.7 ppg, 5.7 assists per game) set to return for 1988-89.
Yet even with some pretty good basketball and attendance draws like UIC, Northwestern, Cincinnatti, and Bradley, the move to the Amphitheater resulted in a 21% attendance drop from the previous season at the UIC Pavilion. Loyola's average home attendance fell to 2601 per game, falling below 3000 for the first time since 1980-81.
At the beginning of the 1988-89 season, Kenny Miller and 6'4″ junior guard Tim Bankston were ruled academically ineligible. At first, Miller said he would stay at Loyola and try to regain eligibility. A year and a half later, under time pressure and family tragedies, he was still trying. Without Miller, Loyola had no starters taller than 6'6".
Early into the conference season, on Jan. 12, 1989, Loyola beat Xavier to move to 2-1 in conference and 6-7 overall. The following day, Friday the 13th, the university ruled center Antowne Johnson and Gerald Heyward academically ineligible by Loyola academic standards (but not by the more lenient NCAA standards applicable to most other Division I schools). Johnson and Heyward averaged a combined 41.6 points and 20.6 rebounds per game. Both players were in their last year of eligibility, so the decision effectively ended their college basketball careers. Heyward scored 1264 career points at Loyola, and Johnson notched 362 rebounds in one full season and parts of two others. Their departures left the Ramblers with only six available scholarship players and two walk-ons. Newcomer Keith Gailes got plenty of playing time and made the most of it, averaging 22.5 points per game in the first of his three seasons at Loyola; he finished his career in 1991 as the school's second-highest career scorer. Attendance fell again in 1988-89, from 2601 the first year in the 9,000-seat International Amphitheater to only 1918 per game. Squabbles with the Amphitheater over amenities, attendance, and contract disputes spilled over into articles in the newspaper.
When Chuck Schwarz was hired as Athletic Director in 1988, he was ready and willing to make big changes in the athletic department. By the end of the 1988-89 season, advisers who supported higher academic standards than the NCAA were holding sway in counseling Loyola University President Fr. Raymond Baumhart, S.J.. Fr. Baumhart had been Loyola President since 1970, and was not known for his interest or support for athletics. In March 1989, Coach Gene Sullivan was let go after establishing a 149-114 record at Loyola. On May 1, 1989 Will Rey, a top assistant at Evansville, was hired to take over the reins at Loyola. He beat out very popular former Loyola assistant Doug Bruno for the position.
All through the late 1980s, Loyola played top competition and won their fair share of big games:
Nov. 30, 1985 Loyola beats #15 N.C. State, 60-58
Dec. 28, 1986 Loyola beat #9 Illinois, 83-82
Dec. 7, 1988 Loyola beat Wisconsin, 90-76
Jan. 21, 1989 Loyola beat DePaul, 70-69
Yet the number of wins and the team's winning percentage shrunk each year as the 80s wound to a close. After rebounding to 16 wins and a tie for the conference regular season title in 1986-87, the Ramblers sank to 13 wins in 1987-88, 11 in 1988-89, and only 7 in 1989-90 (Will Rey's first season).
The former Midwest City Conference was undergoing changes, too. The name was changed to Midwestern Collegiate Conference in 1985-86. In 1988-89, Dayton was added to replace Oral Roberts, which had dropped out of the conference to go Independent. The following year, the league would add Marquette, giving the Midwestern Collegiate Conference an impressive membership roster for the 1989-90 season: Butler, Dayton, Detroit, Evansville, Loyola, Marquette, Saint Louis, and Xavier.
Loyola basketball began the 1989-90 season with a new, first-time head coach at yet another new venue, the Rosemont Horizon. The Horizon was the fourth different home court in a five-year period, which included the indignity of playing at the on-campus home courts of UIC and DePaul. The team had been cleared of any players with marginal academics, and players were now held to a higher academic standard than most other schools. New leadership, new recruiting priorities, and stronger competition in the conference would test the strength of the athletic program and the school's commitment to athletics.
Spoiler alert: It gets darker.
To be continued.