Wednesday, December 6, 2017 7:00 p.m.
Exactech Arena, Gainesville, Fla.
With a good mix of experience and talented newcomers, the Florida Gators had a lofty #8 ranking in the 2017-18 AP Preseason Poll on Nov. 1. The preseason poll in the SEC picked Florida just behind favorite Kentucky in what is expected to be an uptick in the league's competitiveness. After powering their way to a 5-1 record against good competition (their only loss was by three points to #1 Duke) and averaging 99.5 points per game (highest in college basketball) in their first six contests, Coach Mike White's crew entered the week and their Monday night matchup with rival Florida State ranked #5 in the country.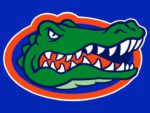 Facing a short bench due to illness and injury, and coming off a long layoff after the PK80 tournament in Portland, the Gators couldn't find their rhythm or their shots from distance against a disruptive Florida State defense, and lost 83-66. That's no misprint—after averaging 99.5 points per game, they scored only 66 at home, to their biggest instate rival. FSU used swarming help defense to force long twos, forced 17 Gator turnovers, and crashed the glass for 23 offensive rebounds. The Seminoles are a team with a lot of length and quick hands, which seemed to disrupt Florida's rhythm and force bad passes, bad shots, and turnovers. And despite Florida averaging 46% on their three-point shots coming into the game, the Seminoles held them to only 6-for-25 on threes (24%).
Florida's likely starters are guards Jalen Hudson, KeVaughn Allen, Egor Koulechov, and Chris Chiozza, plus forward/center Kevarrius Hayes. Playing his first season with the Gators, Hudson is a 6'6" junior guard who transferred from Virginia Tech, and leads the team in scoring with 20.9 points. He pulls in 4.4 rebounds per game and shoots great from behind the arc at 46.7%. He's fast, athletic, and takes care of the ball well. Another newcomer in the backcourt is Egor Koulechov, a 6'5" graduate transfer from Rice. Koulechov is a great three point and free throw shooter, holding top 10 career rankings in both those stats at Rice. So far in Gator country he's putting up numbers even better than in Texas, averaging 16.7 points per game on 42.5% three-point shooting. Although he's better at shooting threes than shooting twos, Koulechov is not simply a three-point specialist—he contributes 6.6 rebounds and 2.7 assist per game, and has hit all but one of his 23 free throw attempts.
The other two guards are both 4-star recruits from the Billy Donovan era who have started nearly every games since they were freshmen. Chris Chiozza is a 6'0" playmaker very reminiscent of Fred Van Vleet. Quick, quirky, and seemingly everywhere on the floor, Chiozza is averaging 11.7 points and 6.4 assists per game in the early going. He doesn't take a lot of threes, but when he takes them he makes them at a 55.6% rate. Florida State shut down Chiozza with only three points, four assists and four turnovers, and zero made field goals on five attempts—in 34 minutes. Junior KeVaughn Allen is a key defender and adds 13.7 points per game, but he is the only Gator who shoots below 40% from the field on both threes and twos. Allen picks up 3.4 rebounds per game, and like Koulechov, he shoots over 90% from the line.
Kevarrius Hayes is a 6'9" junior forward/center who starts about half the games for the Gators, switching off or pairing up with 6'8" forward Keith Stone depending on the matchup. Hayes averages 4.7 points, 4.3 rebounds and 1.85 blocks per game. Stone averages 5.7 points and only 2.3 rebounds; he likes to play a bit further away from the basket and should be considered a dangerous threat from three.
Florida's bench is surprisingly short for a legitimate Final Four contender. Besides the likelihood of Stone coming off the bench, only 6'8" four-star freshman shooting guard Deaundrae Ballard (8.3 points, 3.1 rebounds) 6'3" four-star freshman guard Mike Okauru (5.3 points per game), and 6'11" sophomore center Gorjok Gak (7'4" wingspan) have seen time in every game.
Wednesday night's matchup in Gainesville will be the first meeting in history between the Ramblers and the Florida Gators. The Gators are one of four teams Loyola has never faced in the SEC; Alabama, Auburn, and Tennessee are the others. It's also their last of only two non-con games against a top 100 foe. The Ramblers had perhaps their best game of the year and received significant contributions from newcomers Adarius Avery, Lucas Williamson, and Cameron Krutwig in their win against UIC on Saturday. Defensively, Loyola looked much improved over the first week of the season, and the team looked rejuvenated from a long road trip and searing loss at Boise State. But to beat Florida, on their own floor, immediately following their fourth straight loss to their in-state rival, is going to take another higher level of defense and some fortunate bounces.
Having watched parts of three Florida games this year, one gets the impression sometimes that the Gators like to take it easy. They're all ultra-talented, but the mental toughness, killer instinct, willingness to work extra hard for every ball, willingness to sacrifice for the team, diving to the floor for a loose ball, etc. is something that has yet to emerge on a consistent basis. A couple of weeks ago, the Gators prevailed in a lackluster 70-63 home win against New Hampshire where they had only three assists and shot 3-of-18 from three. Their three-point loss to Duke came after Florida led by 17 points in that game with ten minutes to play, and led by 10 with 4:15 left. And then there was Monday's return to lacklusterdom against a hard-working, pressing rival with a nuisance defense.
It almost seems like if it's going to be a big hassle for these guys, they're not really into it. It's somewhat telling when the game story of Florida's loss has the headline "Gators Get Roughed Up by Seminoles, Must Toughen Up"– and that's on Florida's own official website.
Loyola game notes: http://www.loyolaramblers.com/documents/2017/12/4//Florida_Notes.pdf?id=4754
Florida game notes: http://floridagators.com/documents/2017/12/5/2017_12_06_LoyolaChicago.pdf
TV/Streaming video: SEC Network / http://www.espn.com/watch/_/id/3207014/loyolachicago-vs-7-florida-m-basketball
Radio/Audio: Sirius 135 / XM 191
Vegas odds: Florida by 15.5