No. 5
The 2020-21 Loyola Ramblers:  The Peak of The Moser Years
25-5, 16-2 Missouri Valley (1st Place), Sweet 16
Coach Porter Moser put Loyola back on the college basketball map with a total rebuild that began in 2011 and culminated in a Final Four in 2018. But the team sputtered a bit in 2019 and 2020, losing at Arch Madness in the semi and quarter-finals. So after a Final Four, there was a one-and-done NIT and an unlikely postseason chance as a pandemic shut down sports and much of society.
The COVID-19 pandemic that eliminated the 2020 NCAA Men's Basketball Tournament was still raging at the start of the 2020-21 season. Just before the 2020 season was set to begin, 11 Ramblers were diagnosed with the virus. That shut down the opening of the season, cancelled the MTE (Loyola's best chance at establishing a non-con resume), and upset the practice schedule. Loyola (and many other teams) were suddenly scrambling for opportunities to replace some resume-building opportunities.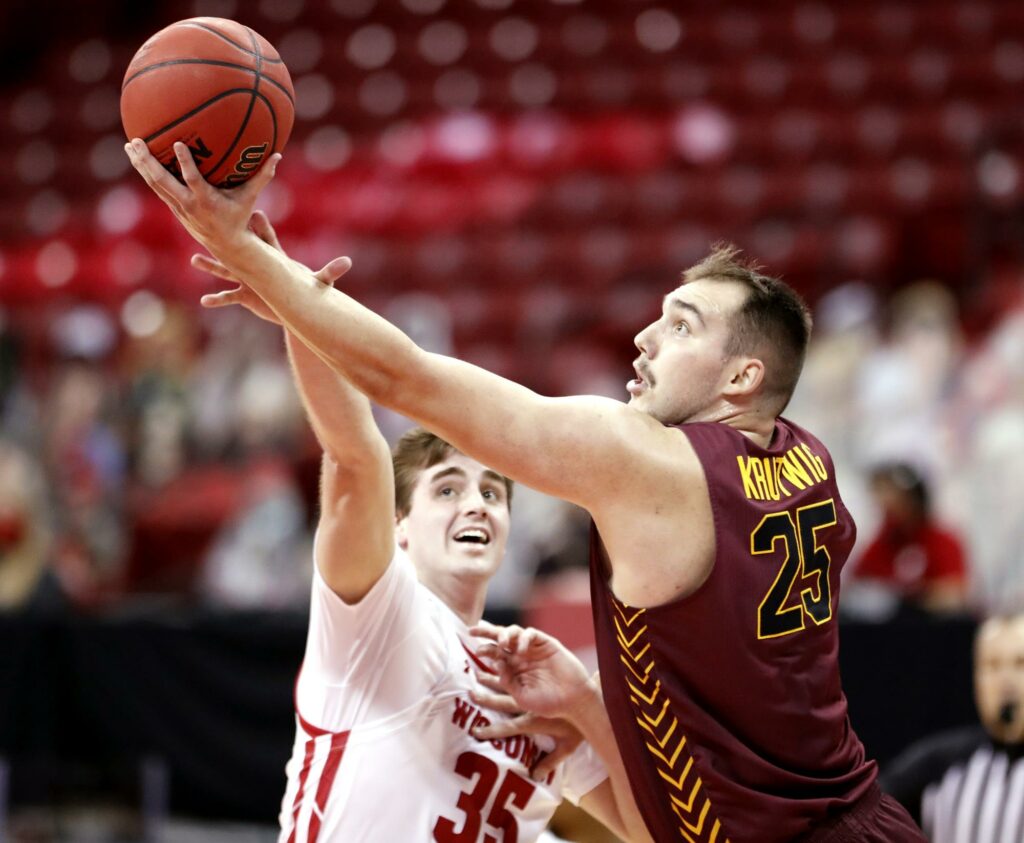 Loyola wasn't able to get their season started until Dec. 5, and was only able to schedule seven non-conference games, only five of them against Division I teams. On Dec. 15, the Ramblers got a hastily-scheduled game against Wisconsin in Madison because the Badgers had an opponent get a positive COVID case. Loyola performed well in most of the first half, then came out flat in the second half, losing 77-63. In another short-notice game against A10 favorite Richmond at a neutral site, the Spiders were up by 15 at halftime before Loyola closed the gap late. The final was Richmond 75, Loyola 73. When there was a gap in play because of an early cancellation of conference games, the Ramblers made the best of it by scheduling a non-con against CUSA contender North Texas. Loyola won that game at Gentile, 57-49, against an eventual tournament team.
To avoid unnecessary and excessive person to person contact and travel during the pandemic, the MVC scheduled back-to-back games in random home or away pairs. The exception was games with the nearby travel partner, which would remain home and road. In a conference as competitive as the Valley, where road wins are at a premium even for the very good teams, it seemed like a particularly daunting challenge.
And boom, sure enough, the Ramblers lost the front end game of their first conference road trip to Indiana State. That put Loyola at 7-3 overall, 2-1 in conference, with a KenPom of 45. Not so good for the Ramblers with no more space to fit in a non-con resume-builder. But the next night Loyola avenged their loss to Indiana State and reeled off 11 wins in a row. The most impressive stretch featured five away games in a row against Valpo, two at Bradley, and two at Missouri State in which Loyola won all five by an average of 20.4 points.
Without any Q1 non-con games to boost the resume, Loyola relied on building their KenPom efficiency numbers, and the Pomeroy numbers shot up during the 11-game streak in which 10 of the 11 wins were by double digits. The 45 KenPom after the loss at Indiana State shot up to 10 after Loyola won its 11th in a row at Drake. The Drake Bulldogs were the other unexpected story of 2020-21. Coach Darian DeVries' tea started off the year 18-0 before their first loss at Valpo. By the time Loyola beat them 81-54 in Des Moines to open their two game series, Drake was at 57 in KenPom.
So now Loyola had a 10-point win over CUSA leader North Texas and a 27-point road win over a KenPom 57… there's your Q1 win! Seems the 27-point smack down was a little too much for Drake to abide, so the next day they fought, scratched, and willed their way to a 51-50 overtime win after they seemed done in regulation. That win over the Ramblers and the rest of their body of work (25-4 on Selection Sunday) was enough to get them an at large NCAA bid to the First Four, where they beat Wichita State.
Loyola won the MVC regular season with a 16-2 record. Taking no chances at Arch Madness, they won their three games in the conference tournament by an average of 16.7 points. It was the third regular season conference championship and second conference tournament championship in four years. It happened at a moment when college basketball prognosticators realized the value of efficiency metrics, and Loyola went into Selection Sunday ranked #9 in KenPom. But there were no wins against P5 teams, so where to put them? The NCAA decided on an 8 seed.
In the NCAA Tournament, Loyola faced a banged-up Georgia Tech team that shocked the ACC with a run to the title. The Ramblers beat the Yellow Jackets somewhat easily, winning 71-60. That put Loyola on a collision course with the Illini, who won the Big Ten conference tournament and ranked #2 in all of college basketball in KenPom.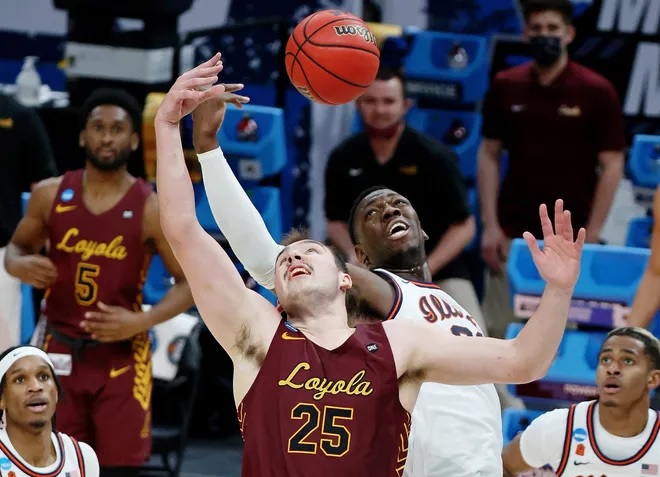 Famously, the Ramblers embarrassed the Illini with a 71-58 humiliation in which they were out-played in every phase of the game. That win, knocking out the #1 seed in the NCAA Tournament to advance to the Sweet 16 just four years after a Final Four, was the game that cemented Loyola as a program that had arrived, and not just Cinderella or a one-hit wonder.
The Ramblers lost their Sweet 16 game against Oregon State (coached by former Alumni Gym gym rat Wayne Tinkle).  And the inevitable happened– Coach Moser took a big money job at a P5 school, Oklahoma. Cameron Krutwig decided to move on as well, to a pro career.  Drew Valentine was promoted to Head Coach, the youngest in Division I.  And less than eight months later, Loyola accepted an invitation to join the A10.
No. 4
The 1948-49 Loyola Ramblers:  From No Program at All to a National Title Game in 4 Years
25-6, NIT Runner Up
Loyola's Hall of Fame Coach Lenny Sachs died suddenly at the age of 45 in the first year of World War II, when young men of college age were opting for the military out of high school or putting their college studies on hold. Coach Sachs died a few weeks before the men's basketball season, and assistant John Connelly took over to lead Loyola to a 12-10 record. But without a permanent head coach and a war raging, Loyola put the program in sleep mode for the rest of the war.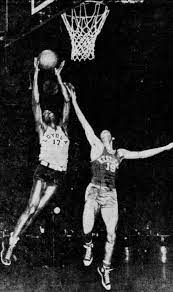 After two full years with no team at all, Loyola tabbed former DePaul Coach, military veteran, and seated DePaul Athletic Director Thomas Haggerty to re-start the Loyola basketball program. Building slowly and surely, Haggerty recruited some great talent: 6'6″ power forward Jack Kerris out of Chicago De La Salle was a star– holding the Loyola career scoring record of 1556 until Harkness broke it in 1963. Gerry Nagel was the point guard, Don Hanrahan a guard/forward, and Ed Earle more of a muscular forward who could handle the ball; all three had at least a year in the nascent NBA. Air Force veteran Ben Bluitt was the first African-American Loyola men's basketball player in 1946; he played sixth man, and added length and leap to the skill set. Bluitt coached high school in Chicago, was an assistant to Dick Viatle at Detroit, and became the second Black head coach in the Ivy League at Cornell.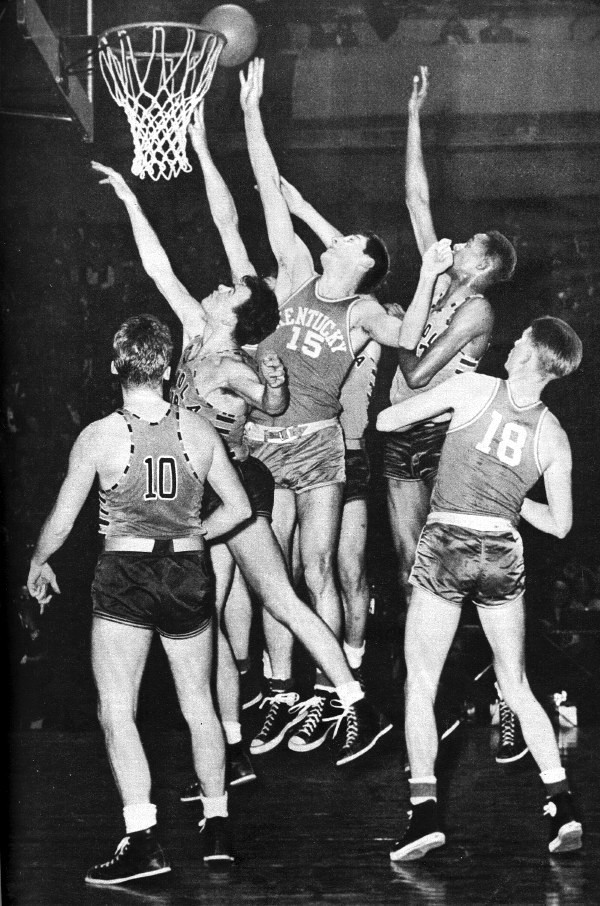 Loyola's 1949 regular season featured wins over Big Ten teams Wisconsin and Purdue on the road, a home/road sweep over Marquette, a road win over NIT entrant St. John's, a 14-point win at St. Bonaventure, and a 32-point home win over Villanova.
The 1948-49 team suffered three regular season one-point road losses: A 45-44 road loss at Toledo, a 59-58 loss at #14 Holy Cross (featuring Bob Cousy), and a 52-51 overtime loss at Duquesne. Loyola also split home and road games with DePaul and Bowling Green.
It's important to remember that in 1949, the NIT had more participants (12) than the NCAA Tournament (8). And that's even with some schools (Kentucky in 1949, CCNY in 1950) sometimes entering BOTH tournaments. So the NIT still had a lot of relevance, and many people thought it was more prestigious.
Loyola's first opponent was CCNY, who would win BOTH the NIT and NCAA Tournaments in 1950, the only time any team would do so.  The Ramblers won 62-47 in that NIT play-in round at Madison Square Garden on March 12, 1949.  Next up was #1 Kentucky– Loyola beat the #1 Wildcats 61-56 on March 14, 1949– and Kentucky went on to play in the NCAA Tournament where they won the National Championship.
On March 17, 1949, Loyola beat #7 Bradley to advance to the NIT Final. This set up the final game, on Saturday, March 19, 1949, with Loyola (an unexpected underdog who was supposed to lose to Kentucky) facing off against San Francisco (an unexpected underdog who was supposed to lose to Saint Louis or Utah).
In the final, USF got out to a lead, but Loyola fought back and tied the game at 47-all in the closing 90 seconds. This is where USF Coach Pete Newell was pretty clever, and his team was able to execute.  When USF got a free throw, the 48-47 lead, and the ball, they held it. In the the late 40s, the rule was when you got fouled, you had a choice between free throws OR keeping possession and inbounding. USF chose to inbound after every foul, and Loyola never got possession back.
Newell's NIT Championship strategy got him hired away by Michigan State in 1950, and in the late 50s he returned to Northern California to coach Cal to the 1959 NCAA Championship. (That's right, CAL has a Natty!)
Still, the Ramblers beat #1 Kentucky in the NIT, just two weeks before Kentucky won the NCAA Tournament and the National Championship. Here is the radio broadcast from Madison Square Garden in 1949, if you don't believe it…
No. 3
The 1928-29 Loyola Ramblers: An Undefeated Season in the Middle of a 31-Game Winning Streak
16-0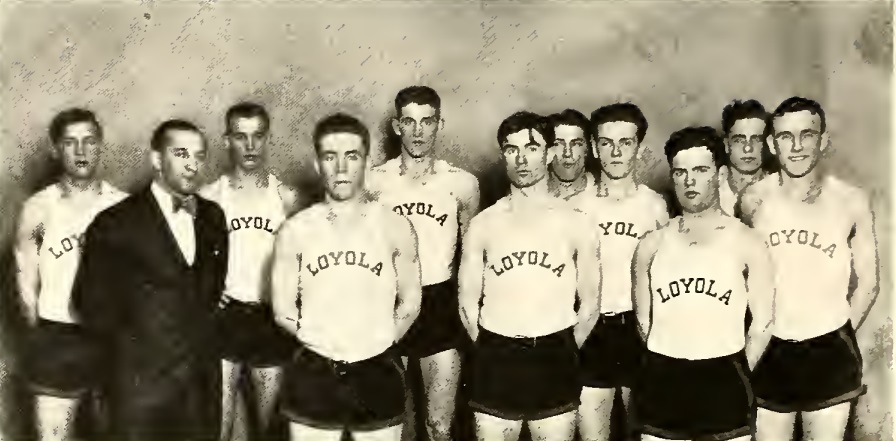 In 1929, there was no KenPom, SRS, RPI, or any other accurate metrics to compare one team against another. There were few statistics beyond final game scores. And postseason championship tournaments were still nine years away. So I'm working off of my estimates and knowledge of the era and conditions to fill in some of the hard numbers that supported the rankings of the other teams.
The Helms Foundation was created in the 1930s as an organization to promote amateur athletics, and in 1943 they began naming college basketball national champions (considering both the NCAA and NIT tournaments and the body of work in the regular season). In the 1950s, they released a retroactive list of their declared champions from the years before postseason tournaments. Their selection for the men's basketball championship of 1928-29 was Montana State, a team that went 36-2 against anyone and everyone they could schedule, in an era when 22 games was on the high average end of total games played.
The 1928-29 team was the squad that launched Loyola from a smaller, regional program to a national power in college basketball. Coach Lenny Sachs—inducted into the National Basketball Hall of Fame in 1961—had only three seasons under .500 from 1925 to 1942. In that span, he won 212 games against 107 losses, and had two undefeated regular seasons.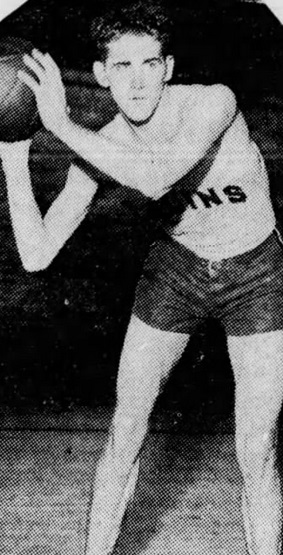 The thing that propelled Sachs and Loyola into the upper echelon of college basketball was the fact that the National Catholic Interscholastic Basketball Tournament was held at Loyola's Alumni Gym from 1924 through 1941.  Loyola had the best Catholic school basketball players coming to campus each and every year, with Coach Sachs there to recruit them.  When the 1928 and 1929 teams took off, Coach Sachs showed that he could do a lot with raw talent he saw at the high school tournament.
The 1928-29 Loyola Ramblers began the season with a four-game winning streak held over from the 1927-28 team, and went on to an undefeated season at 16-0. Two of Loyola's close wins were against Saint Louis, which was 14-4 that season and twice beat the MVC champion.
Loyola was the only undefeated team in 1928-29, and beat their opponents by an average of 23% per game (27.38 to 17.06).  The Ramblers played a solid schedule at the time, maybe not the most challenging schedule, but still undefeated. North Carolina's 34-game winning streak from 1923-25 featured several non-college amateur teams, such as the Durham Elks Club, Charlotte YMCA, etc. That was a fairly common practice back then. But Loyola played all college teams in their 1928-29 season.
The key thing about Loyola dominance in 1928-29 was that it came in the middle of a 31-game winning streak that began on Feb. 18, 1928 with a 27-18 win over Lombard College (Carl Sandburg's alma mater), and ended with a 25-20 overtime loss at Purdue (featuring a sophomore star named John Wooden) on Jan 30, 1930.  As part of that streak, the Ramblers defeated Xavier five times; Detroit three times; Saint Louis, Dayton, Bradley, Western Michigan, and North Dakota twice; and Butler, Vanderbilt, Duquesne, Arkansas State, South Dakota State, and Montana State (the defending Helms Champion from 1928-29) once.
A couple weeks after the 31-game streak ended at Purdue in the 1929-30 season, Loyola went on to defeat North Carolina, the team that held the record for the longest winning streak (34 games, from 1923-1925). That North Carolina team from 1923-25 counted victories against the Durham Elks (twice), Charlotte YMCA, and other assorted opponents as wins. Yes, Loyola played some weaklings also, but at least they were other colleges.
The top player on that 1928-29 team was Charlie "Feed" Murphy, a 6'4″ forward who earned All-American honors in 1929 and 1930.  Murphy started playing pro out of college for a variety of teams, including the Chicago Bruins, Oshkosh All Stars, and Chicago Duffy Florals. 
No. 2
The 1938-39 Loyola Ramblers:  Undefeated Regular Season, The Pinnacle of Coach Sachs' Career
22-1, NIT Runner Up
Ten years after his first undefeated season, Loyola Coach Lenny Sachs put together one of the great teams in college basketball for another undefeated schedule. In 1929, there was no such thing as a postseason tournament, so he did everything possible to build Loyola's reputation though better scheduling, and made innovations in defensive schemes. In 1935, after earning a Master's degree at Loyola, he was elevated to Athletic Director.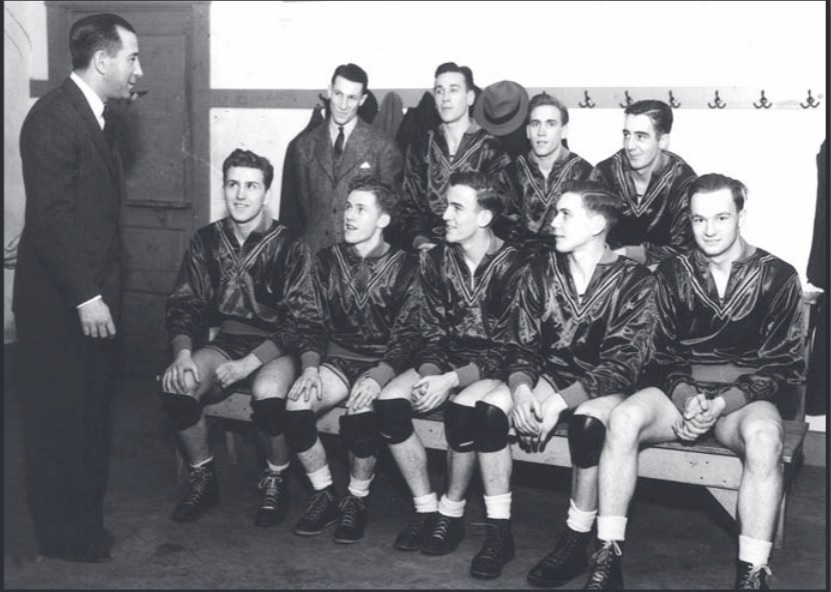 Coach Sachs' 1929 team and the 31-game winning streak from 1928 to 1930 was overlooked by a lot of college basketball fans. Beginning in 1929-30, Coach Sachs really stepped up his scheduling, getting games with Purdue, North Carolina, and others.
Knowing he had a fantastic team in 1938-39, Coach Sachs got the big enrollment, football dominant schools on the schedule and picked out some good Independent college hoops squads. Columbia (Ivy League), Chicago (Big Ten), Michigan State, Santa Clara, Villanova (an NCAA Final Four team that Loyola defeated 51-32), Drake (MVC Champion that Loyola beat twice by a combined 25 points), Toledo x2 (with a 17-10 record), and George Washington (13-8 record).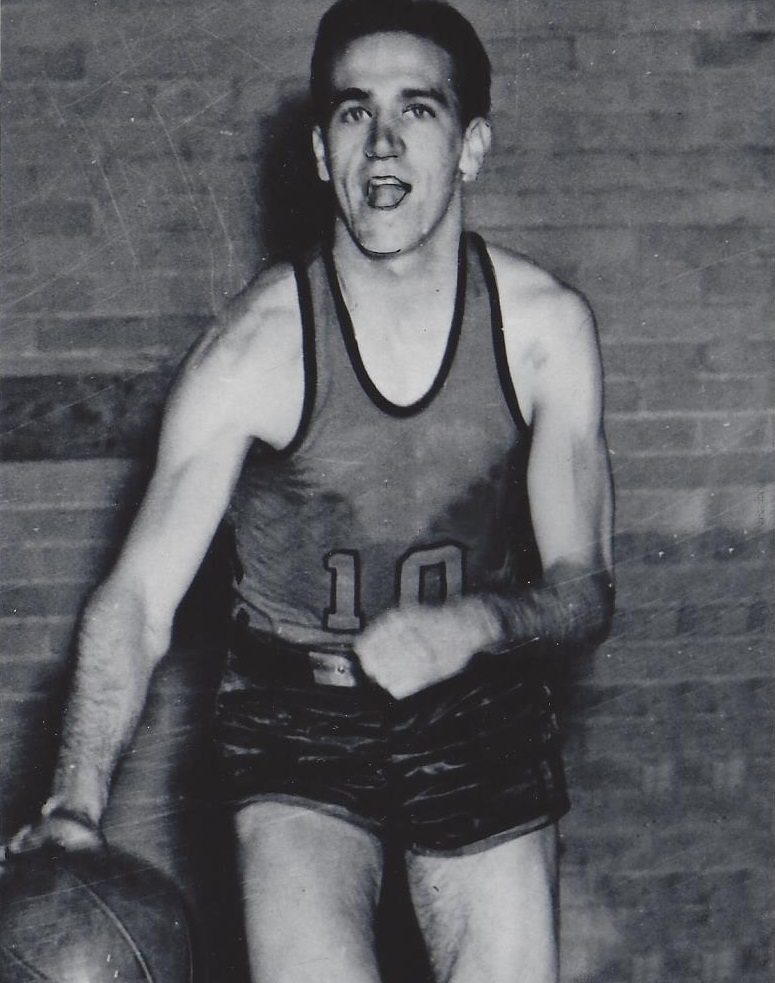 Led by 6'0″ senior guard Wibs Kautz (16 points per game) and 6'9″ senior center Mike Novak (consensus All-American), the Ramblers plowed through the schedule, defeating their opponents by an average of 15.7 points per game during the regular season.  The Ramblers started four seniors and a sophomore, so they played well together as a unit. Kautz and Novak both played together at Tilden High School before coming to Loyola, and they both played professionally on the nascent teams that eventually became the NBA.
Loyola was 20-0 at the end of the regular season, and accepted an invite to the 1939 NIT, the second year of the tournament. In response to the NIT, the NCAA was starting their own tournament in 1939. There were 6 teams in the NIT: Bradley, Loyola, Roanoke, Long Island, New Mexico A&M, and St. John's. LIU and Loyola were both undefeated. There were 8 teams in the NCAA Tournament: Brown, Ohio State, Villanova, Wake Forest, Oklahoma, Oregon, Texas, and Utah State. In the NIT, both Loyola and Long Island were undefeated. In the NCAA, Loyola had defeated Villanova by 19, and three NCAA teams had six or more losses.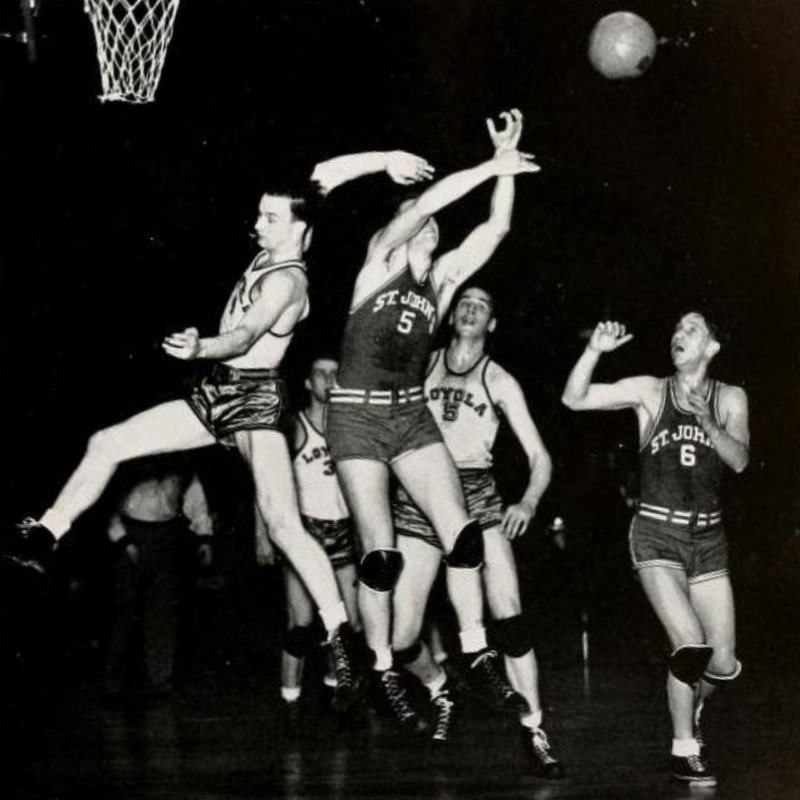 The Ramblers defeated St. John's 51-46 in overtime in the semifinal game, which was really more like a road game at Madison Square Garden.  That set up the NIT final between two undefeated teams:  Loyola at 21-0 and Long Island University at 20-0.  LIU beat New Mexico State and Bradley to reach the final, winning a play-in to reach the final game.  The NIT had full houses of more than 18,000 at MSG, while the first year of the NCAA Tournament attracted  a near-capacity crowd of 4000 to 5000 at Patten Gym in Evanston. 
In the Final, the Ramblers were abysmal, wilting under the pressure of an 18,000-voice hostile crowd. Loyola scored only 32 points, their lowest output of the season, while the hosts put up 44. The Helms Foundation, in their retroactive declaration of national championships declared that the NIT Champs Long Island University were the real national champions, not the NCAA Tournament winner Oregon.
No. 1
The 1962-63 Loyola Ramblers:  The Greatest, Most Impactful College Basketball Season Ever
29-2 Overall, National Champions
There could only be this team as the best ever in Loyola history. Looking at the best teams ever from a Loyola perspective is enlightening, because when we get to this team it makes one wonder: Has any other team in the history of college basketball ever had a more successful year, against such odds, creating so much opportunity for others, making the game more exciting, and having such lasting impact?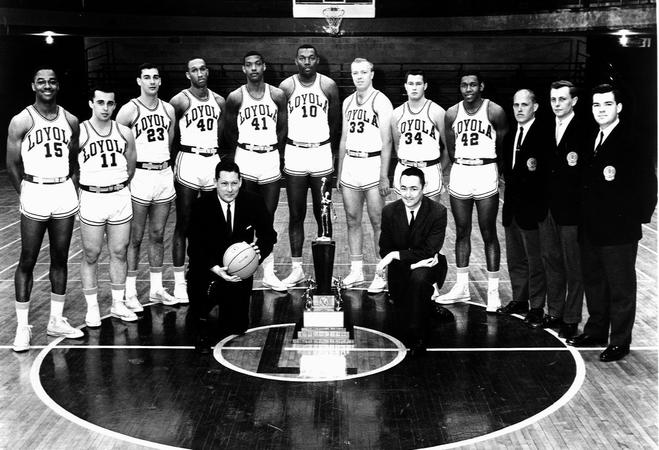 I suppose you could make a case for the 1966 Texas Western Miners. Maybe a UCLA team? There's a case for the undefeated 1976 Indiana Hoosiers, I suppose. CCNY won both the NIT and NCAA in 1950… but they had a point-shaving scandal and dropped out of the University division of college hoops in 1953, so….
No. There is no other team in the history of college basketball that had a better, more thrilling, more important, or more impactful season– ever. Period.
* Winning the National Championship in their first ever NCAA appearance.
*  Setting an NCAA Tournament record for biggest margin of victory, 111-42 (a record that still stands today, 59 years later), in their first ever NCAA Tournament game.
* The first ever known occurrence when a major college team played five African American players at the same time on the court (Dec. 28, 1962).
* Defeating the two-time defending champions and #1 ranked team in the country after…
* Trailing the two-time defending champions and #1 ranked team in the country by 15 points in the second half, staging a comeback to win at the buzzer in overtime– the record for biggest comeback in the NCAA Final for 59 years (until 2022).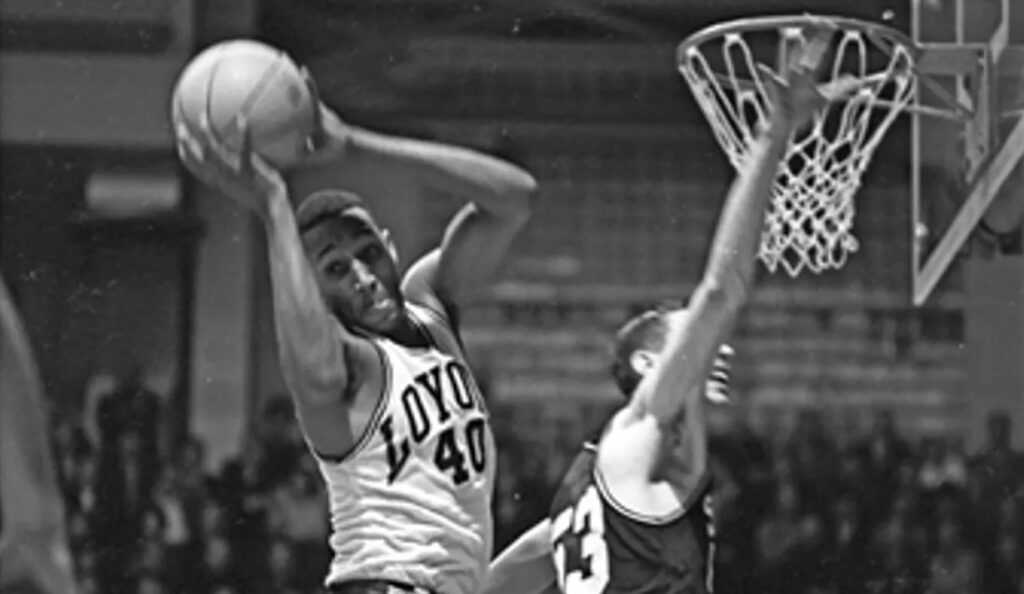 * Overcoming the adversity of racist threats, harassment, taunting, unequal treatment, higher scrutiny, and allegations of academic fraud.
* The starting five playing every minute of the overtime title game.
* Despite racist suggestions that Loyola's team was composed of paid ringers, every starting player graduated from Loyola; one starter earned a postgraduate law degree; one starter earned a postgraduate MBA; and one starter earned a BA, three Master's degrees and a Ph.D.
* Helped change the style of the game for decades. In 1959, the highest scoring team in college basketball averaged 87.6 points per game. Loyola averaged 91.8 in 1963, and by 1966 the highest scoring team (Syracuse) was averaging 99 points a game and eight others higher than Loyola's 1963 scoring average.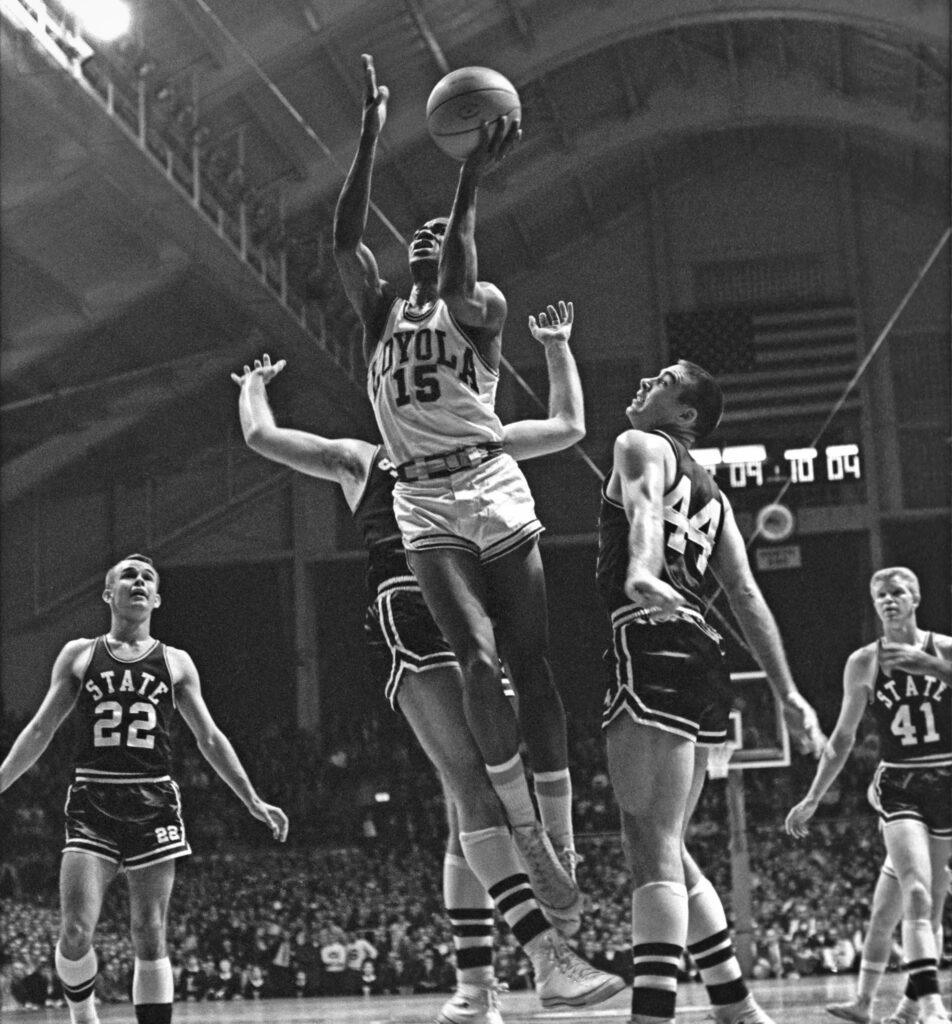 * Playing SEC Champ Mississippi State in a clean, competitive game that almost didn't happen after the state of Mississippi prohibited MSU from playing a team with African-Americans.
* Integration of college basketball took a huge leap forward after Loyola's championship. Hundreds of scholarships opened up for qualified African American students, which were subject to quotas or segregation before. A top example: In 1963, one of the most demonstrably racist receptions Loyola encountered was at the University of Houston, where they were pelted with coins, spit on, rude signs in the audience, cat calls, etc. The following year Houston recruited their first Black football player, and two years later African American basketball players Don Cheney and Elvin Hayes propelled Houston into a national basketball power.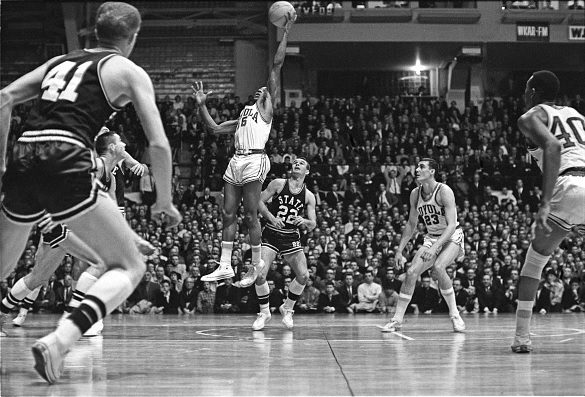 The list of feats and firsts goes on and on, now thankfully chronicled and showcased in full documentaries, several books, official government honors, a meeting with the President in the White House, and enshrinement in the National Collegiate Basketball Hall of Fame.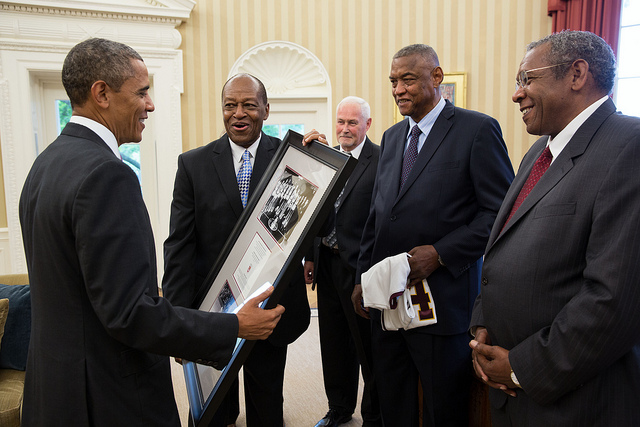 Yeah, that's a pretty solid season.