Tuesday, November 28, 2017 8:00 p.m.
Taco Bell Arena, Boise, Idaho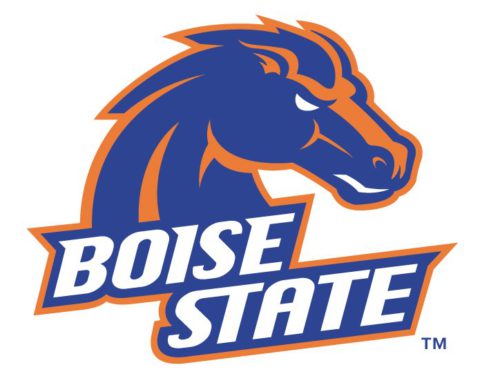 Boise State has flourished in men's basketball since Leon Rice was named coach in 2010. The Broncos have had six 20-win seasons in the seven full seasons with Rice at the helm, including two NCAA appearances, reaching the NIT last year, and the NIT semifinals in his first season. This year the Broncos were picked to finish third in the Mountain West, in large part thanks to the MWC Preseason Player of the Year, 6'7" senior guard Chandler Hutchison.
Hutchison had a phenomenal junior season at Boise State, averaging 17.4 points and 7.8 rebounds per game. After declaring for the NBA Draft (but not picking an agent) as a junior, he bowed out of the draft to return for his senior season at BSU. This season he had a game with 19 points and 18 rebounds against Illinois State, but he injured his head falling to the court for a rebound against Iowa State, and didn't play against Loyola Marymount on Saturday. He will likely be available on Tuesday for the Ramblers.
The Broncos have been very impressive in the early going, demolishing a non-D1 and Southern Utah before reaching the final of the Puerto Rico Tip-Off. In that tournament they won a close one against UTEP 58-56, and then demolished Illinois State. The Broncos use a very effective 2-3 zone that completely flummoxed the Redbirds. Hutchison was injured 7 minutes into the loss against Iowa State.
Assuming Hutchison satisfies the concussion protocol, BSU is likely to start the game with 6'11" junior Zach Haney and 6'7" Christian Sengfelder at forward. Marist HS grad and grad transfer from Valpo Lexus Williams, 6'4" sophomore Alex Hobbs, and Hutchison start as guards.
Haney is a gangly but mobile forward who has terrible shot selection, but is excellent on the glass, especially on the offensive glass. He averages 4.2 points and 6.8 rebounds, mostly because he shoots less than 30% from the field. Sengfelder is a grad transfer from Fordham who works hard in the offense to do little things, and is a slightly better shooter than Haney– he averages 11.8 points and 5.5 boards per game.
Lexus Williams was a promising freshman point guard at Valpo who became a bench player after an injury in his sophomore season. He found a starting role for his senior year at Boise State, and he's making the most of it, averaging 7.3 points per game and posting a 2.33 assist to turnover ratio. Williams is a somewhat reluctant but credible three point threat, and leads the team in steals. Alex Hobbs is an athletic shooting guard who can drive the lane and shoots the lights out—55.4% on field goals, 46.2% on threes, and 92.3% from the free throw line. Hobbs shares the team lead in assists with Hutchison, and along with the team's star provides a double threat.
With Williams joining the lineup as point guard, Justinian Jessup moved to the first spot off the bench. Jessup, a 6'6" sophomore combo guard, started all but one of Boise State's games last year and averaged 7.4 points per game. This season, coming off the bench and playing starters' minutes, he's leading the team in scoring at 13.8 per game, pulling down 6.8 rebounds per, and leading the team in made threes at a 43.9% rate. Marcus Dickinson, a 6'2" sophomore guard, has been another impact bench player, hitting 11 of his 17 three-point shots and averaging 7.7 points per game. Six-eleven junior center Robin Jorch doesn't get a great deal of time per game, but is an imposing rim protector who averages 2.3 points per contest. The same goes for 6'10" junior forward David Wacker, who averages 3.2 points.
BSU is loaded with versatile players who can create mismatches, and they help each other get into a situation to create those mismatches. Hutchison is a 6'7" player with guard skills when he puts the ball on the floor. He can slash to the basket and finish, and rebound like a forward. Dickinson has a quick release on his jumper, so don't leave him too far alone outside the arc. Sengfelder reminds me a little of Wichita State's Evan Wessel with what he does in the offense to free other players. Jessup is another long guard at 6'6" who can shoot over most guards, and has enough quickness to drive past tall defenders. And many of the Broncos have done quite a bit of strength training.
The Broncos have been prone to turnovers early in the season, averaging 13.5 turnovers and committing 13 more turnovers than their opposition. Thanks to the zone, they are really good rebounders, and they are really good at defending the three, holding the opposition to only 23% behind the arc. Especially with bench players in the game, they can be beaten back into the zone if nobody stops forward progress, so look for the opportunity for some Ramblers going coast to coast. Offensively they like to play in a rhythm, so full court pressure, half-court traps, and switching up defenses is key. Let the big men shoot as many jump shots from 10 feet out as they want, but make sure to rebound the misses. Townes, Ingram and Krutwig need to establish their ability to score inside against the zone.
When the Ramblers beat BSU 48-45 to win the Continental Tire Las Vegas Classic December 23, 2014, it was also unexpected and helped give the Ramblers confidence to go on to a 24-13 season and a CBI Championship. Donte Ingram and Ben Richardson were freshmen on that team and both played in that game; Chandler Hutchison was a freshman for Boise State who played four minutes. I don't know if it was a game that stuck in Boise State's craw (they made the NCAA Tournament as an 11 seed and lost in a play-in matchup against Dayton—in Dayton), but they know not to underestimate Loyola.
The last time Boise State lost a non-conference game at home was against St. Mary's on December 14, 2013. Since that game they're 46-9 at Taco Bell Arena.
Loyola game notes: http://www.loyolaramblers.com/documents … df?id=3741
Boise State game notes: Pending
TV/Streaming video: http://www.broncosports.com/mbasketballlive/
Vegas odds: Pending