In the late 1980s, Loyola men's basketball was faltering in its attempt to compete with DePaul and Illinois. The Ramblers' 1985 Sweet 16 run had just about lost all its luster by 1988, when Loyola was playing in an empty livestock arena on the South Side. A shared MCC regular season title in 1987 was followed by a rebuilding year, and then a change in the leadership in the Department of Athletics. But a huge change in the philosophy of the department of athletics was about to kick in, with critical implications for Loyola men's basketball in the 1990s.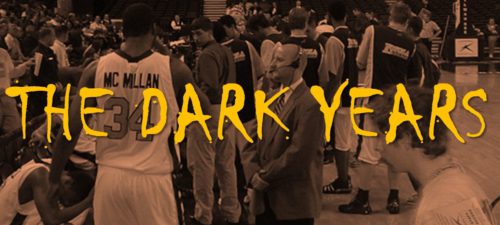 Chuck Schwarz was hired as Athletic Director in 1988, and arrived with a focus on raising academic standards in the athletic department. Several key Loyola men's basketball players– who were eligible to play based on NCAA standards– were ruled ineligible because they failed to meet Loyola's standards. Kenny Miller and Tim Bankston were ruled ineligible before the 1988-89 season, and Gerald Hayward (averaging 22.4 points per game) and Antowne Johnson (19.2 ppg, 12.8 rpg) were ruled ineligible before the spring semester. Coach Gene Sullivan resigned (er, really he was fired) after a 11-17 season in March 1989.
In 1989-90, new head Coach Will Rey and the Ramblers finished 7-22 overall and 3-8 in conference. It was the first year Loyola played in the Rosemont Horizon, and attendance picked up to 2701 per game despite the losing record. Grant Moehring, a 6'7" forward out of Rockford Boylan, and 6'4" shooting guard Brian Wolf were the top newcomers—and two transfers, 6'3" sophomore guard Eric Dolezal from Nebraska, and 6'3 junior guard Hunter Atkins would be eligible in 1990-91.
Will Rey's first recruiting class for 1990-91 was highlighted by 6'6" center Kerman Ali out of South Shore High School. He was joined by very raw and gangly 6'11" center Bernie Salthe out of Staples, Minn. and redshirt freshman Russell Wilson from Minneapolis South HS. Wilson had knee surgery and therapy which caused him to redshirt.
The hodge-podge of transfers, newbies, freshmen and the purge survivors (senior shooting guard Keith Gailes, injured senior forward Keir Rogers, and red-shirt sophomore point guard Don Sobczak) somehow managed to eke out wins over Western Michigan, Northwestern, Bradley, and Illinois State in Normal.
The 1990-91 Ramblers finished 10-19 overall, but only 3-11 in conference. Despite some wins against good programs having rebuilding years, the Ramblers also lost games by double-digits to the likes of Maine, UIC, East Carolina, and Cal-State Northridge. Marquette beat Loyola with particular ferocity, hammering the Ramblers 82-36 in Milwaukee. DePaul took it out hard on Loyola as well, gleefully smashing the Ramblers 102-67. Average home attendance slumped again, dropping below 2000 for only the second time in the past decade; fewer than 2000 people in a building with a capacity of 19500 is a very bad look. In 1990-91, Loyola finished 251st out of 295 teams in RPI.
In his final season, Keith Gailes averaged 25.3 points per game in 1990-91, and scored the last of his 2026 career points at Loyola as the Ramblers were knocked out of the second round of the conference tournament in Dayton. Freshman center Kerman Ali was the only Rambler to start all 29 games averaged 8.4 points and 5.6 rebounds. Ali had two double-doubles and 18 blocks. And transfers Eric Dolezal and Hunter Atkins combined for more than 26 points per game, making the most of their additional playing time in Chicago. Freshman Bernie Salthe played in all 29 games, averaging 3.6 points and scoring a season high 13 points in only 15 minutes against St. Louis.
Will Rey's third season, 1991-92, brought some additional help in the form of Chris Wilburn, a 6'1" point guard out of Martinsville, Ind. Wilburn was a second-team all-state player in Indiana who averaged 11 points and 12 assists per game as a senior. Rey also got a another 6'11" center to join Bernie Salthe, Dan Ciesielski out of Jacobs. But there were no other additions, either from the high school or junior college ranks. The school's second-highest career scorer was out, and a back-up point guard and a project of a center were coming in.
The starting lineup was projected to be sophomore Kerman Ali at center, juniors Grant Moehring and Eric Dolezal at forward, senior Don Sobczek at point guard, and fifth-year senior Keir Rogers at shooting guard. Coming off the bench would be senior guard Hunter Atkins, redshirt freshman guard Russell Wilson, sophomore center Bernie Salthe, and the freshmen Wilburn and Ciesielski.
ENCOURAGING WINS OVER THE BIG 10
The 91-92 season started with Ali injured for the first three games, replaced by Bernie Salthe. The Ramblers dropped their first game of the year at Wisconsin's UW Fieldhouse, and their second game at the Horizon against Western Michigan. But beginning with their third game of the year against Illinois State, Loyola went on perhaps their best streak of the entire decade.
On Mon. Dec. 2, 1991, Loyola beat eventual MVC regular-season co-champs Illinois State at the Horizon, 71-58, for their first win of the season. A week and a half later, on Sat., Dec. 14, Loyola beat Morgan State at Alumni Gym, 105-55. The 50-point win was great, but Bernie Salthe (the only experienced player taller than 6'7″) broke his foot in that game and missed the rest of the season. The following Thursday, Loyola beat UC-Irvine at the Horizon, 84-51, to go to 3-2 on the season.
On Dec. 21, Loyola forced 28 Northwestern turnovers and beat the Wildcats 88-73 at the Horizon. Northwestern was not very good that year, but the same group of starting players—Cedric Neloms, Kevin Rankin, Pat Baldwin, Todd Leslie– would make a nice little run in the NIT two years later. It was Loyola second straight win over Northwestern, and their second game of the year against a Big Ten team. The following week would be a third game against a Big 10 foe, when Purdue came to the Horizon.
Gene Keady's 1991-92 Purdue squad was not their most talented; that year was the season Indiana's 1991 Mr. Basketball Glenn Robinson sat out his freshman year as a Prop 48. But they were extremely well-schooled in the fundamentals. The leading scorer was Indiana's 1988 Mr. Basketball, Woody Austin, who averaged 19 points per game. Travis Trice, Sr. (who coached his son to the NBA via Michigan State, and coached an Ohio high school to a state championship) was a starting guard, and future NCAA coaches Matt Painter and Cuonzo Martin came off the bench. Keady, Painter, and Martin have combined for 1230 Division I coaching wins so far— probably not near a record, but still very impressive.
About 6000 fans, the biggest crowd of the year, saw Loyola beat Purdue 87-79 for their fifth win in a row and their second in a row over a Big Ten team. The Ramblers led by two points at halftime and pulled away in the closing minutes behind 22 points from Indiana native Keir Rogers. Hunter Atkins had 17 points and seven assists off the bench, Kerman Ali had 13 points and five rebounds, and Grant Moehring was 9-for-9 from the free throw line. The Ramblers got 23 points from the foul line and held their own on the glass over the taller, stronger and deeper Boilermakers.
The Ramblers were beginning to get some attention in the local media. Loyola went on the road to beat Maine 65-55 on New Year's Eve at Bangor Auditorium for their sixth in a row. Five days later they were back at home to crush a decent Georgia State team, 94-73. Seven wins in a row was Loyola longest winning streak since losing to Georgetown in the 1985 NCAA Tournament almost seven years earlier.
But seven is where the streak would end, as Iowa State decisively crushed the Ramblers at Hilton Coliseum in Ames, 92-69. In these very dark times Loyola was beginning, there would not be another seven-game winning streak for another 15 years; Loyola's next seven game winning streak against D1 competition happened late in the 2006-07 season.
1992-93: DARKNESS DESCENDS
The end of the 1990-91 season saw the departure of Keith Gailes, and the end of the 1991-92 season saw the graduation of his longtime friend and high school teammate Keir Rogers. Between them, the Rogers High School teammates from Michigan City, Ind. scored 3458 points, grabbed 1148 rebounds, and committed 363 steals. But because of injury and eligibility rules, they were only able to play together for two seasons.
Now with significantly higher admissions and eligibility rules, it would be a while before Loyola took chances on players like Gailes again. Kerman Ali was an undersized center from a Chicago Public League school whose last title was in 1947, but he had enough academic qualifications to be admitted in 1990; he would graduate in four years. At the time, it took 128 semester hours to graduate from Loyola, and a large percentage of non-athlete students struggled to finish in four years. Loyola's next four-year recruit from the Chicago Public League was David Bailey in 1998, and that signing was delayed until the very end of the signing period, when all the grades came in from Westinghouse.
Nevertheless, Coach Rey and the athletic department painted a rosy picture for 1992-93. The recruiting class featured 6'6" forward Joe Estes from Jeffersonville, Ind., 6'5 forward Matt Hawes out of South Suburban Rich Central High School, and 6'3" guard Lamont Nelson from downstate Marion. Joining them was 5'9" Vernell Brent, a juco transfer from Kaskaskia who attended Chicago Vocational.
On opening night of the 1992-93 season at the Horizon the Ramblers faced Wisconsin in former NBA coach Stu Jackson's college coaching debut. Wisconsin was led by future NBA all-star Michael Finley out of Proviso East High School in Maywood. Future Loyola assistant and UIC head coach Howard Moore was a bench-warming sophomore forward that year for the Badgers.
Loyola stayed close throughout the game, and with the score tied at 66, Kerman Ali came up with the ball and drove to the basket for a layup at the buzzer. It was a happy trip back to Rogers Park down Touhy on the Bud Bus that night.
Three nights later, a potential tying shot against Notre Dame rolled off the rim at the buzzer in a 52-50 loss. The next week, the losing margin was a little larger against Bradley, five points. And the losses kept getting bigger that season—a 14-point loss at #18 Purdue, a 15-point loss to DePaul, a 24-point loss at Illinois State, and a 38-point loss at Evansville.
After a 67-65 win at Duquesne to start the conference season 1-0 (but only 4-6 overall), the Ramblers lost 12 straight games. From Jan. 2, 1993 to the end of the season, Loyola went 3-16 against D1 competition, with the three wins coming on a total of six points. It was the first time in the 14-year history of the Midwest City/Midwestern Collegiate Conference that Loyola had finished in last place, tying with Dayton at 3-11 for a share of the conference cellar.
Through four seasons, Will Rey had assembled a record of 37-77 as head coach. In conference, his squads won only 11 games against 41 losses in the first four years. Unlike previous seasons, there was not a single four-year prospect signed up to come on board for 1993-94. The word was getting around– Loyola was a tough place to get admitted, a tough place to stay eligible, and tough to get excited about on the court.
1993-94: VERY, VERY DARK
Desperate to turn things around in the last year of his contract, Rey loaded up with athletic players from the only place he thought he could get them under Loyola's academic standards— the juco ranks. Five junior college players signed on and made it through the admissions office for 1993-94 season. And to make the won-loss ledger look a little more favorable, Coach Rey loaded up his schedule with teams from the weakest conferences possible: four games against teams from the MEAC, two from the OVC, two from the MAC, and one from the Mid-Con. Northwestern was the only major conference team on the schedule before conference play began on Jan. 15.

Meanwhile, the Midwestern Collegiate Conference was falling apart. St. Louis and Marquette left the conference at the end of the 1990-91 season, headed for the new Great Midwest Conference. The move left the league with only six teams for 1991-92, so the MCC attracted LaSalle and Duquesne to bolster the ranks for 1992-93. At the end of the 1992-93 season, Dayton left for the Great Midwest, and Duquesne departed for the A-10. This left the MCC with only five teams holding membership for five years or more, which caused the MCC to lose their automatic bid for 1993-94.
The five juco newcomers in 1993-94 were 6'6″ forward Marlon Burton from Thornwood via Lincoln College, 6'5" forward Elmer Dickerson from Galesburg via Lincoln College, 6'7" forward Darrin Jenkins from Pratt Community College, 6'1" guard Eric Thomas from Peoria and Butler County CC, and 6'6" forward Bernard Williams out of Gordon Tech via Snow Junior College. Williams and Dickerson were ruled academically ineligible ten games into the season; again, the players were still eligible by NCAA minimum standards, but not Loyola's standards. Thomas and Burton made it to the end of the season, but were gone the following year. Only Darrin Jenkins was able to play the full two years he signed up for.
Even at full strength early in the season, playing against one of the weakest schedules in school history the Ramblers struggled. Loyola won their two games against Morgan State by a combined six points, and got smacked by 23 points at Coppin State. The other wins came against Bethune Cookman, Morehead State, and non-D1 Concordia. The losses included a 25-point drubbing by Bowling Green at the Horizon, a 24-point smackdown by Northwestern, a 23-point beating by Miami of Ohio, and a double-digit loss to UIC.
The Ramblers lost Dickerson (9.2 points per game) and Bernard Williams after the first 10 games. Senior Kerman Ali, averaging a career high 16.9 points, injured the arch of his foot just 13 games into the season and never returned to the court; he finished his career with 1142 points and 569 rebounds.
Yet even in the middle of one of the bleakest, soul-crushing seasons in Loyola history, riddled by injury, academic problems and suffering blowout losses, there was one unforgettable bright spot. Just a game after losing Kerman Ali to injury, the 5-8 Ramblers limped into South Bend on Jan. 24, 1994 for a Monday night non-con matchup with Notre Dame. The Irish—still unaffiliated with a conference for men's basketball– were having a rough year as well, standing at 5-10 on the year. But their dominance over the Ramblers in the all time series was stark and intimidating—Notre Dame had won 25 out of 26 games in the series at that time, dating back to 1924. Loyola's only win against the Irish came in 1956, in Chicago.
The Ramblers had nothing to lose that night, and played with a defensive intensity that they might not have known they possessed. Maybe it was frustration at losing their senior leading scorer to injury, or two newcomers to stringent academic standards, or maybe it was taking advantage of Notre Dame's overconfidence. But the Ramblers thoroughly dominated Notre Dame, earning a 70-58 win over the team led by Monty Williams, a 6'8" senior headed for the NBA as a player, and later as a head coach.
ESPN's Sports Center was just taking off on its rise to become a cultural phenomenon in 1994, and Loyola's improbable win over the Irish in South Bend earned a segment on Sports Center that's become an enduring memory among Rambler fans. "Too Much Matt Hawes!!" the Sports Center anchor barked, showing several clips of the Loyola sophomore forward going for 14 points and three rebounds in only 16 minutes that night.
Loyola won only one more game of the remaining 12 contests that year, a home non-con win over Northern Illinois. The 1993-94 season finished with a ledger of 8-19, and a 1-9 record in conference– last place for the second year in a row.
Fans and players all knew Will Rey was on his way out; it was no surprise when it became official on March 16, 1994. Rey finished his five years with a record of 45-97. There were wins against Notre Dame, Wisconsin, Northwestern, Purdue and Bradley, but there were losses to Coppin State, Morgan State, and several embarrassing blowout losses to DePaul and UIC. Only 12 conference wins in 5 years, out of 62 chances, for a conference winning percentage of .193—in a conference that had lost its NCAA Tournament auto bid. The Sweet 16 season in 1985 was a distant memory. Kids coming into the recruiting pipeline in 1994-95 were eight years old the last time Loyola was in the tournament. Word had spread on the street among players and coaches that Loyola was an extraordinary academic burden for student-athletes, with little margin for error.
In April 1994, DePaul Assistant Coach Ken Burmeister was announced as Loyola's new head coach. Burmeister also had head coaching experience at UTSA, where he took the Roadrunners to the 1988 NCAA Tournament. The Ramblers would also return to campus to play home games in an Alumni Gym that had just experienced a $300,000 facelift.
"Return to campus" was a glossy way to put what others might call a retrenchment or even a retreat. The Ramblers had lunged for the brass ring after the 1985 Sweet 16. The new edicts on admission and eligibility had burned players, coaches and fans, and given the program a bad reputation. Loyola hadn't developed or maintained a rabid fan base– it doesn't happen overnight. The team wandered from home court to home court through the 1980s and 1990s, playing on the South Side, West Side, Lincoln Park, Rogers Park, Evanston and Rosemont– six different home court venues in 14 years, sometimes doubling back to previous homes after trying out others. With shrinking crowds, higher academic standards limiting recruiting, and a fiscal crisis at the university brought on by separating the Medical Center from university revenues, many wondered if the downsizing of facilities and big time ambitions was a first step toward dropping from Division I status.
In his haste to put together some kind of team from the wreckage of Will Rey's juco gambit, Burmeister brought in St. Rita guard Charles Smith, 5'10" point guard Ray Collum from Racine Lutheran, 6'8" forward Joe Warnke from Chicago Christian, and 5'10" juco point guard Theodis Owens. The new coach also claimed transfer guards Yann Barbic from Georgia Tech and Derek Molis from Fordham; they would be eligible in 1995-96. Part of the reason for signing Collum was to appeal to Javan Goodman, a Top 100 6'8" athletic power forward with a sweet perimeter jump shot. The Collum family was a host family for Goodman, who was a native of the Bahamas. Goodman would be a senior at Racine Lutheran in 1994-95.
All but one of Will Rey's jucos departed Loyola before the 1994-95 season, leaving many scholarships open. Kerman Ali had graduated, and only a few experienced players were holdovers: Joe Estes, Matt Hawes, and Chris Wilburn. Coach Burmeister also found some new uses for 6'11" fifth-year center Bernie Salthe, who had been used almost exclusively as a rim protector for his entire career. With some minor footwork and shot development, Salthe became a potent offensive weapon in addition to Loyola's second-leading career shot-blocker.
The new-look Midwestern Collegiate Conference in 1994-95 had nearly as many newcomers as Loyola. Evansville left the league for the MVC after the 1993-94 season, and the MCC raided the membership of the Mid-Continent Conference, adding Northern Illinois, UIC, Wisconsin-Green Bay, Wisconsin-Milwaukee, Wright State, and Cleveland State. The 11-team format would last for a year before Xavier and LaSalle bailed out, leaving Butler, Detroit, and Loyola as the only private schools remaining.
1994-95: BLACK HOLE DARK
The 1994-95 season was miserable. In many ways, it was like Loyola had dropped to Division II, playing in a tiny old gym against a bunch of teams that were D-II just a few years before. Except for Bernie Salthe, most of Loyola's talent was D-II as well. Loyola beat non-Division I Concordia to start the season with an 89-70 win, as expected, but then shocked Northwestern 70-69 behind 22 points from Theodis Owens to start the season 2-0.
Unfortunately, the early win over a 22-loss Northwestern team was the highlight of the year. The Ramblers lost 22 of the 25 remaining games, ending with a 2-13 conference record. It was Loyola's third last-place conference record in a row, even with a conference now full of teams somewhat new to Division I. And it was the sixth season in a row with three or fewer conference wins.
There were two eight-game losing streaks in 1994-95 sandwiched around a home win over Wright State. But perhaps the low point was the 68-56 loss to Sacramento State on Jan. 5, 1995. The Sacramento State bench players were jumping around like maniacs in the last four minutes of the second half; Loyola was ending Sacramento State's 55-game road losing streak dating back to their entry into Division I in 1991.
According to the Simple Rating System (SRS), 1994-95 was Loyola's worst season of men's basketball for as far back as data has been collected (1949-50). The previous season (1993-94) was the fourth worst. The 1992-93 season was seventh worst, and 1995-96 was 11th worst. The 1990-91 season comes in as the second worst season at Loyola since 1950. Five of the 11 worst seasons in Loyola men's basketball (including the two worst ever) happened in the six-year span from 1990 to 1996.

One of the top hits of 1994-95 was Soundgarden's very dark opus, "Black Hole Sun."
Coach Burmeister's "mulligan year" was probably about the best he could do without a real recruiting class, after the bench had emptied from the juco exodus. Even after the $300k facelift (mostly just installation of plastic bleacher seats, a couple of temporary concession stands and some restroom upgrades) Alumni Gym was a bit better than it was in the 1980s, but still uncomfortable. It was not even conceivably a permanent solution to an on-campus home court.
1995-96: DIM GLIMMERS
The 1995-96 team was full of promising newcomers, led by Top 100 recruit Javan Goodman. The 6'8" forward from the Bahamas by way of Racine, Wis. had good shooting range, impressive wingspan, and great rebounding ability. Joining Goodman in the frontcourt was 6'5" Donyale Bush, a sophomore juco transfer who had spent four years in the Navy during Desert Storm. Another juco was 6'11" JaJa Richards from Pensacola JC. Fordham transfer Derek Molis instantly became a long range shooting threat, and Georgia Tech transfer Yann Barbic added some size at guard coming off the bench. Molis, Goodman, and Bush immediately joined the starting lineup, with sophomore guard Charles Smith and senior point guard Theodis Owens. Four-year seniors Joe Estes and Matt Hawes added some experience from the bench.
Coach Burmeister's first year running with his own crew at Loyola showed some early promise when the Ramblers beat Indiana State in Terre Haute on Dec. 6, 1995. After a 66-65 come-from-behind win over a decent Loyola Marymount team on Dec. 28, the young Ramblers came within three points of knocking off Northwestern at Welsh-Ryan on Dec. 30.
But the Northwestern loss began an eight-game losing streak and a seven-game conference losing streak as conference play began. Yes, Loyola was losing a lot, just as they had been doing for almost all of the past three seasons. But there was some fight in this new bunch, and glimmers of possibilities. By late January, the young team began to play a bit better together. Beginning with a Jan. 27 win at Cleveland State, the Ramblers put together a run where they won five of their next seven, losing only to conference leaders Green Bay and Butler. Green Bay, led by 1996 NBA 2nd round pick Jeff Nordgaard, went undefeated in conference play and reached #22 in the AP rankings.
Loyola bowed out in the first round of the tournament against Green Bay, but finished 5-11 in conference and 8-19 overall. For the first time since 1991-92, the Ramblers were out of the cellar. The five conference wins were the most for a Loyola team in nine years, and the team was much more watchable. Derek Molis set a new single-season school record for made three-pointers with 71, and led the team in scoring. Donyale Bush, standing only 6'5", became known for his toughness and tenacity under the basket, averaging 10.7 points and 6.2 rebounds. Freshman Javan Goodman led the team in rebounds with 7.9 and added 9.8 points per game while shooting over 50% from the field. As a freshman, Goodman finished third in the league in rebounding, ahead of 1996 NBA first round pick Vitaly Potapenko.
Rising outside Alumni Gym was the new multipurpose center, which would seat over 5000 and provide a long-overdue comfortable on-campus home court for Loyola. Talk of the on-campus home court began in the early 1980s, and almost a decade and a half later it would open for the 1996-97 season. Things seemed like they were turning around. The new facility, soon to be named the Joseph J. Gentile Center for 1946 graduate who made a fortune as a velour jumpsuit-clad suburban car dealer, was a huge step forward. Javan Goodman was only a freshman, and Donyale Bush only a sophomore. Coming in next year was a highly-regarded point guard from the Chicago Catholic League. It really seemed like the Ramblers had turned a corner. Had they?
Spoiler Alert: Eh… kinda.
To be continued.