The A-10 had one of its worst seasons as a league in 2022-23, with VCU being the lone bid in the conference and earning only a 12 seed.  As the conference's highest finisher in KenPom (#60 after their first-round loss to St. Mary's), it's quite likely that VCU wouldn't have been selected if they had lost to Dayton in the conference final.  It was the first time since 2005 that the A-10 had a only a single bid.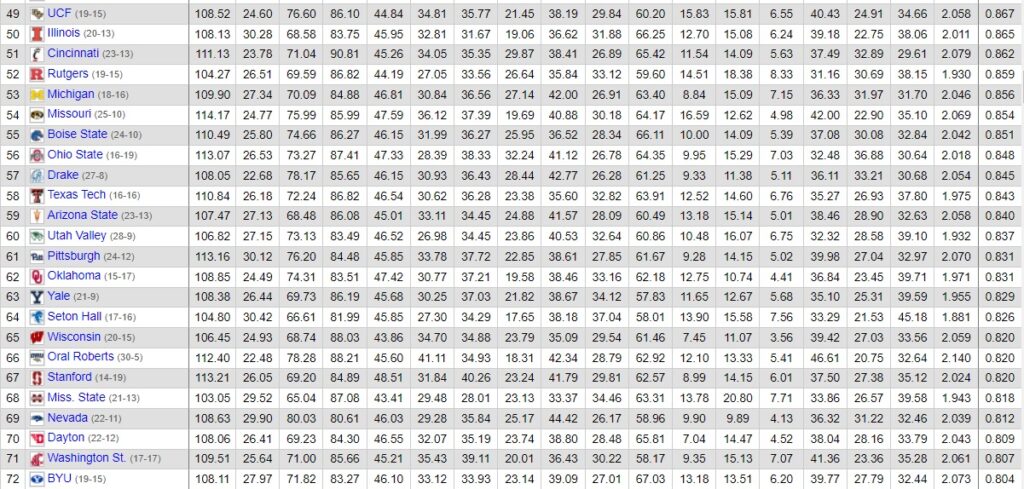 In the most recent 3 Bid League podcast, Jon Rothstein of CBS Sports and College Hoops Today opines that the move from a 16 to 18-game conference season is a factor in the league's decline in bids from an all-time high of 6 bids in 2014.  He also outlines some scheduling tactics that might help get more home games with P5+ teams.
Others have suggested that the way to get more at large bids is to work the NET and other metrics rankings by demolishing a bunch of buy teams at home and then have a great league season.  For a discussion of this scheduling strategy, see the scheduling thread on the Ramblermania.net message board. 
Fordham did something like that scheduling maneuver that last year.  They won 25 games, but they had the absolute dead-last non-con strength of schedule in Division I.  The Rams played 7 home games against KenPom-ranked 300-363 teams, and a total of 10 home games against teams ranked in the bottom third of the KenPom rankings (teams between 243-363).  Happily, Fordham won all those games.  Their other games were wins against #158 Harvard and at #103 Tulane, but a 26-point loss in their only non-con road game against at top 100  team (#22 Arkansas).
Ya know, that's great for Fordham to compile their second-biggest season win total in school history, but this is a school that finished tied for second in the A-10 conference race, and they had the worst NCSOS in all of Division I.  They finished the season with a 137 KenPom despite a 25-8 overall record and a 12-6 league finish.  On top of that, their league schedule was 5th easiest schedule among the 15 league teams.  The lopsided schedule gave them a great overall win total, but didn't give them a robust opportunity for a Top 100 non-con win.  And when they beat Dayton at home and VCU on the road…. those results dragged down the two league front-runners. Maybe that's what Rothstein meant by having the two extra league games?
In the end, Fordham didn't even get an NIT invite with their 25 wins against only 8 losses, even AFTER Dayton and Saint Louis both said they would not accept an NIT bid.  That meant that in addition to only one NCAA bid, there were zero NIT bids for the 15-member A-10. One postseason bid, TOTAL, between NCAA and NIT? I know that's never ever happened before.
My thought is that the league should have a standard which promotes a more challenging non-con schedule to hedge against slip-ups in the conference schedule, engage in a challenge series with leagues like the WCC, Mountain West, and American.
The more quality teams the league can play, the more opportunities the A-10 has for Top-100 non-con wins against P5+ teams. Last year, league teams got wins against Providence, Memphis, Drake, Pitt, Vanderbilt, DePaul, Clemson, and South Carolina. Unfortunately, the conference as a whole dropped many more of their Top-100 games than they won, and top teams in the league lost to teams like #242 SIU Edwardsville (at home), #234 Jacksonville (at home), and #211 Buffalo (neutral), and #265 Fairleigh Dickinson (at home). Loyola lost to #316 Tulsa at a neutral site… just an absolute killer.
The fewer teams worse than 250, the fewer opportunities for a resume killer. The more opportunities against teams in the top 100, the more chances for a resume builder. It's just that simple. And you're not going to look like a fraud if you step up and play some home-and-home games against teams from good leagues. If you get to the tournament via smoke and mirrors, you're going to have a bad first weekend anyway. That's my philosophy.
In the two years Loyola has been in the A-10, they've been able to schedule neutral site non-con games against Clemson, Stanford, South Florida and Florida Atlantic. That's on top of the Hall of Fame Classic event in Kansas City this season, with three potential opponents in the Top 100. It's not clear whether the Ramblers have been able to schedule those games because of recent postseason success or because of A-10 membership, but it seems like both are a factor.
The league needs to step up and help schedule. Create competitive partnerships with other conferences in similar circumstances, WCC, MWC, American, CUSA, Ivy, etc. Rothstein talks about creating events that coincide with the assets of A-10 teams, such as a "Palestra Invitational." A few weeks ago, I had the idea for an "Amtrak Challenge," featuring home-and-homes with cities that have Amtrak pairs, like Chicago-Milwaukee, Philadelphia-NYC, Boston-Providence, St. Louis-Chicago, Cincinnati-Indianapolis, DC-NYC, etc. A lot of college students use Amtrak to commute between school and home.
Here's the bottom line: If none of the top 4-6 teams in the league have a better than .500 record against Top 100 teams, they don't deserve bids. If they're losing at home to SIU Edwardsville and Jacksonville they're not getting at large bids that they might otherwise get if those losses were to 100ish teams like Toledo or San Francisco.
What do you think? Share your thoughts on the messageboard.