– 1929-2023 –
Britton 'Brot1Britu' Rinehart before a game with Cleveland State in 2002.
It's my sad duty to report that beloved Rambler fan and Ramblermania legend Brot1Britu passed away May 21, 2023 in Akron, Ohio. Known for his optimism, energy, passion for the Ramblers, and delightfully corny sense of humor, Brot– known as Britton Rinehart in the real world– authored approximately 10,000 posts on various versions of Ramblermania over the years– and hundreds more posts in the early years of the internet on AOL and other message boards.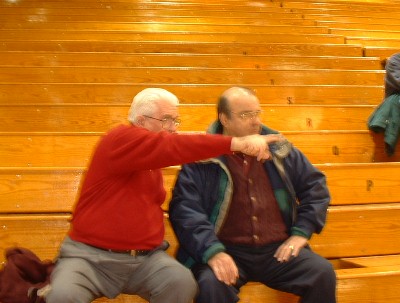 A year or so after Ramblermania went live on July 17, 1998, a message board was added to the site and Brot1Britu popped up. Absolutely impossible not to like, Brot quickly embraced the role of elder statesman and helped Ramblermania have some of the best institutional knowledge of any college basketball message board.
I had the opportunity to attend several games sitting next to Brot in the late 1990s and early 2000s in Cleveland and Youngstown. We developed a long distance friendship offline as well, exchanging cards, letters, books, and other gifts.
Brot was already retired from his work in building equipment sales and well into his 60s when he discovered and embraced the early internet. On Ramblermania, he posted all about growing up as a Cubs fan on the far West Side near Oak Park, where he was a childhood friend of future fellow Rambler Bob Newhart. Brot and Bob attended Loyola together, but Brot left school before graduation to start working. Brot's devotion to his wife Dolores (whom he nicknamed "Longshot Lor" for her decision to take a chance on marrying Brot), was a regular feature of his posts that could melt hearts; Dolores passed away in 2012.
One of Ramblermania's most beloved posts every so often was THE EARLY MORNING LINE, Brot's early prediction/handicap of the league race in the choppy, jargonny style of the Daily Racing Form. Brot was always ready to step in with an anecdote about the rebuilding of the men's basketball program after World War II, the excitement of a jam-packed Chicago Stadium doubleheader, Red Rush's introduction of a particular player from the 1966 team, memories of NBA legends who played against the Ramblers back in the day, or attending the 1963 Final Four in Louisville.
Brot was the genuine article… a buoyant, energetic, Mid-Century Midwestern Guy, with deep faith throughout his life. It was impossible to be down in the dumps in his company, no matter how bad the Ramblers might have been that season. Peace to him and his big, loving family. And may someone else step up and do the hard job he did all his life, being positive and making other people happy they're around.