Some folks around college hoops seem to have the impression that Loyola is some kind of newbie in college basketball, mostly because no one heard much about the Ramblers from 1987 or so to 2018. If you go 31 years—a whole mature generation– with nothing to show for it but six seasons above .500 and a CBI Title, and people tend to forget about you.
Real Loyola fans– and real college basketball fans—surely know we had a National Championship in 1963. Maybe they've even heard about how impactful, and consequential that championship was, thanks to the book "Ramblers" by Michael Lenehan, the film "The Loyola Project," and a crazy Final Four appearance in Loyola's first NCAA Tournament trip after a 33-year absence.
But the 1963 National Championship and its civil rights and social change effects are only part of the story. Loyola's place in college basketball is a lot more enduring. Some of the great teams from long before 1963 also had lasting impact.
Since I became a Rambler fan at the beginning of the lowest point of the program's success and started Ramblermania a few years later, I've made it part of the mission of this site to make sure people recognize that Loyola's long ago success, its civil rights contributions, and historic place in college basketball isn't forgotten. Some of you might know several of these teams and have some recollections about them you might want to share. Maybe the historic past of Loyola basketball is completely unknown to some of the newer fans and our new conference-mates in the A-10.
Here is my ranking of Loyola's 25 best teams in program history.
NOTE: This is actually a semi-scientific/mathematical list. I took the SRS ranking, KenPom numbers (or estimates based on points for/points against and schedule strength from the pre-KenPom days) and added bonus points based on a scale of conference and post-season tournament success levels. Then I put it through a spreadsheet weighting the various factors (my personal judgment as a longtime fan), and this is the result.
HONORABLE MENTION
The 2001-02 Loyola Ramblers: One Shot from the Tournament
17-13, 9-7 Horizon (4th place tie)
This was one of my favorite teams back in the day, because they broke apart stereotypes about the program. This team remains—still, after several recent trips to the NCAA Tournament– the only Loyola team ever to win its first 6 games in conference play. It was the first team since 1987 (15 seasons) to finish above .500. Filled with players who defied expectations, like 5'8" point guard David Bailey, 6'6" center and Navy veteran Donyale Bush, defensive ace Louis Smith, explosive 6'8" forward Corey Minnifield, Bradley transfer Kevin Clancy, former walk-on Jonathan Freeman, and Greek three-point specialist Vasilis Tsimpliavidis, wow, did they change a lot of perceptions about Loyola basketball.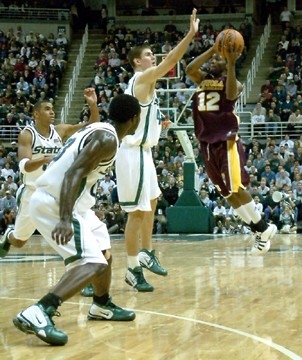 In their opening game, they played Marquette very close on the road in Dwayne Wade's first college game. On Dec. 18, 2001, the Ramblers broke a 24-game road losing streak dating back to 1999, featuring Loyola legend Red Rush on radio play-by-play from St. Mary's in Moraga, Calif. On Feb. 20, they beat Butler at home as the Bulldogs were gaining notice as a mid-major power; it was Loyola's first win over Butler in the last nine games.
Then, after nine straight years of losing their first round conference tournament game, Loyola knocked off higher-seeded Wright State, and then beat Wisconsin-Green Bay, who unexpectedly knocked off Butler. That matched Loyola with UIC in an intra-city, brother vs. brother showdown for a tournament bid. It went to overtime, of course, and the Ramblers lost on a late fall-away basket by Cedric Banks followed by a desperation heave from Kevin Clancy that skipped off the top of the rim.
I was lucky enough to see 25 of this team's 30 games that year in person. Very exciting, and great to see the players demand better almost every game. It was the beginning, I think, of higher expectations after a long, long period of terrible basketball.
No. 25
The 1983-84 Loyola Ramblers: Lots of Talent, Thin Resume and Some Bad Breaks
20-9, 10-4 Midwestern City Conference (2nd place)
Loyola has only had 18 20-win seasons in their history (five of them in the last five years), and this 20-win campaign was against a light schedule. Future NBA player and first round pick Alfredrick Hughes wanted to do just about everything. He played 39.7 minutes per game, took about 23 shots per game, and led the team in rebounds, steals, and free throw attempts. He scored a then-record 800 points in the season to average 27.6 points per game and averaged 8.2 rebounds per game. Loyola's third-best scoring and rebounding option, Andre Battle, missed 15 of 29 games that season. Carl Golston was in his first year after transferring from Wisconsin, and he added 19.7 points and 5.8 assists per game.
It was a weak year for the Midwest City Conference, and Loyola's best non-con win was a two-point win over middle of the Big 8 Colorado in Boulder. Losing badly to Xavier in the second round of the conference tournament left the Ramblers at 20-9 overall, 10-4 in conference– second to Oral Roberts. This was also the year before the NCAA expanded the tournament to 64 teams, so the Ramblers were not really a tournament-worthy team, especially given the weakness of the conference that season. If the conference had been a little stronger, maybe an NIT bid?
No. 24
The 1982-83 Loyola Ramblers: Regular Season Champs, Coming Up Just Short
19-11, 12-2 Midwestern City Conference (1st Place)
Here's another Rambler team that was on the verge of an NCAA Tournament. The 82-83 Ramblers came within a point of beating Illinois in Champaign, beat Cal, Cincinnati, and DePaul; and they reached the final of the Midwestern City Conference tournament—where they lost to Xavier, 82-76.
This team formed a prototype for Coach Gene Sullivan's teams through the middle to the end of the decade… Alfredrick Hughes and Andre Battle were in their sophomore seasons, averaging 25.8 and 11.8 points per game respectively. Six-foot-seven center Chris Rogers, an Oklahoma City transfer, averaged almost a double-double with 10.3 points and 9.3 rebounds per game. Two 6'3" guards, Greg Williams and Calvin Young were the main ball distributors, with Wisconsin transfer point guard Carl Golston sitting out a transfer year.
No. 23
The 1986-87 Loyola Ramblers: Solid Offense, Token Defense
16-13, 8-4 Midwestern Collegiate (1st Place tie)
This was the last winning team for Loyola (either in conference or overall) for 15 years, as the Gene Sullivan era was winding down. The team had great talent—Bernard Jackson (in his last season after transferring from Wichita State) was 3rd in the league in scoring with 22.8 ppg, and Andre Moore won the Conference Player of the Year Award by averaging 20.8 ppg and leading the league in rebounds and blocks. But the defensive will wasn't there; Loyola last in the league in points allowed, and 256th of all 289 Division I teams.
Andre Moore was drafted by the Denver Nuggets as the 31st overall pick (8th in the 2nd round), finishing the college season with more rebounds per game than #1 NBA pick David Robinson. Keith Carter was in his sophomore year of eligibility and had his best season on offensive efficiency. Evansville (in the senior season of future coach Marty Simmons) had two future NBA players and tied the Ramblers for the top spot in regular season play, but third place Xavier won the tournament at the beginning of their long run of success. Xavier's 1987 tournament appearance was their 4th ever in school history; the Musketeers have made 24 appearances in the 35 years since.
No. 22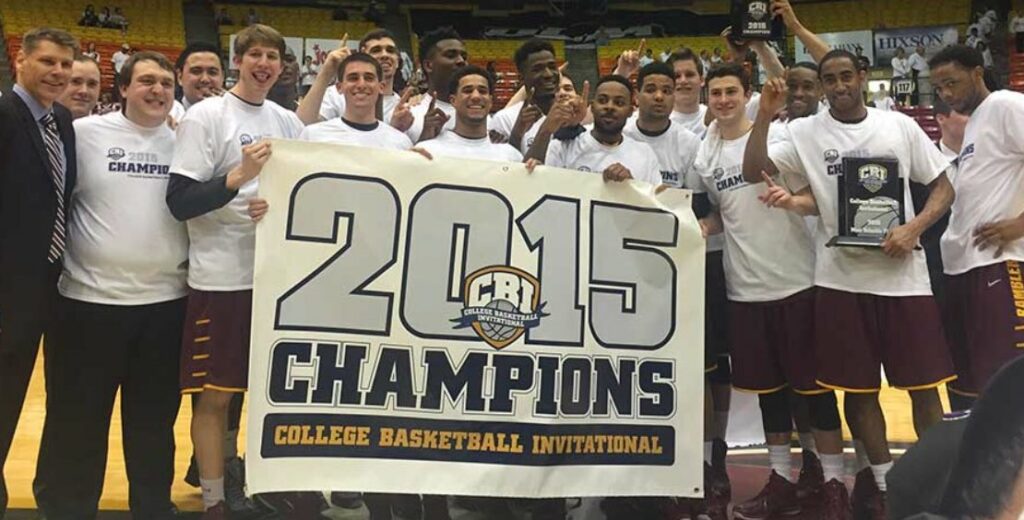 The 2014-15 Loyola Ramblers: CBI Champs
24-13, 8-10 Missouri Valley (6th Place)
For a program that hadn't been to a postseason tournament for 30 years, the chance to participate in a C-level tournament was a godsend. The 2015 CBI was one of the weaker fields in the short history of the CBI, but Loyola made the absolute best of it by winning every game in front of them.
The Ramblers began the 2014-15 season by winning the Continental Tire Las Vegas Classic by defeating Texas Tech and Boise State. After winning at Evansville on Jan. 8, Loyola was 12-3 overall and 2-1 in MVC play (the one conference loss was by single digits at #23 UNI). But in the next game at home against #15 Wichita State, Milton Doyle injured his ankle, and Loyola lost 9 of their next 13 games. Doyle returned to play in the last two regular season conference games (both wins), and two games in Arch Madness (an emphatic, record-setting win against 3-seed Indiana State, and a loss to #11 UNI).
In the CBI Tournament, Loyola's supporting cast—senior stalwart Christian Thomas, juco transfers Montel James and Earl Peterson, three-point specialist Devon Turk, and freshmen contributors Ben Richardson and Donte Ingram—made the lion's share of the scoring with Doyle (still on the mend) providing leadership and guidance. It was a fantastic finish for a team that started off so well but was derailed by injury. The experience of playing in a postseason tournament proved to be immensely valuable three years later.
No. 21
The 1957-58 Loyola Ramblers: A Team That Gelled a Little Too Late
16-8 Overall
The '58 Ramblers began their season in late '57 beating up on the little guys and getting trounced by the good teams. From December 2, 1957 to January 4, 1958, Loyola beat five non-University Division teams (the contemporary equivalent of Division I) by an avg of 30.2, but lost all of their four games to University Division squads by an average of 16.8 points.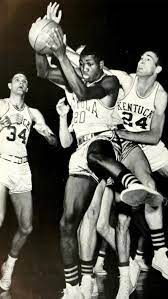 On Jan. 11, the Ramblers won at Air Force, then followed it up with home wins against Western Michigan, Eastern Kentucky, and Marquette. By February 15, the Ramblers were sitting at 9-7 and ready for their biggest home game of the year, Adolph Rupp's #12 Kentucky at Chicago Stadium. Kentucky creamed the Ramblers by 33 points on Dec. 30 at Memorial Coliseum in Lexington, so not many folks expected a Loyola win.
With the Kentucky ahead with just ticks left on the clock, Loyola's Frank Hogan (the future headmaster of Chicago Latin School) inbounded the ball to Art McZier, who fired a hook shot for the winning margin at the buzzer. After knocking off Kentucky, the Ramblers finished off the season by winning three of their next four to finish at 16-8. UK went on to win the National Championship, marking the second time (1949 was the other) that Loyola defeated Kentucky during a UK national championship season.
Visit the Ramblermania Message Board to comment or share memories.
The countdown continues with teams 16-20 on Wednesday.