The countdown of the top 25 Loyola men's basketball teams of all time continues. The previous teams in the countdown are here.
No. 15
The 2019-20 Loyola Ramblers: Moments of Greatness, But a Meltdown is Entirely Possible
21-11, 13-5 Missouri Valley (2nd Place)
Three games into the 2019-20 men's basketball season, Loyola lost to Coppin State at home. The Ramblers were a team that went to the Final Four less than two years before, and they were coming off a conference championship and NIT bid. And now they're losing a buy game at home to a MEAC team.
These same Ramblers led South Florida by 6 points at the half and had a 12-point lead over Colorado State with less than 10 minutes to play before losing both games at their MTE in the Cayman Islands.
2019-2020 Loyola Ramblers
But Loyola took care of business in the MVC, registering a 13-5 record, losing to KenPom 49 UNI on the road in overtime and beating them in overtime at home. Loyola also beat a top MAC team, Ball State, on the road and knocked off Vanderbilt at a neutral site in Phoenix. It was the Ramblers' third consecutive 20-win season after having only two 20-win seasons in the previous 32 years.
As Arch Madness– the MVC conference tournament– approached, talk circulated about an airborne virus that could be deadly. Amid the beginning of this chaos, conference champion and #1 seed UNI lost by more than 20 points to Drake. It was a huge, crazy upset. When Loyola played a few hours later, they built a 14-point halftime lead. The Ramblers had an 18-point lead with 15:44 left, and a six-point lead with 28 seconds left. But Valparaiso got their only win against Loyola in the MVC in a play-in, come from behind shocker, 73-72 in OT.
Meanwhile, the pandemic news kept getting worse, so in the days between the start of the conference tournament on Thurs. March 5, and the Tuesday after, March 10, the whole college basketball world shut down. For the first time since 1937, there was no NCAA Tournament, and no NIT.
No. 14
The 1951-52 Loyola Ramblers: Legendary Old School Ballers in Coach Ireland's First Season
17-8
George Ireland's tenure at Loyola started with three wins over cupcakes, and three losses in his first games against top teams. After beginning 3-3 with losses at #3 Illinois, at #20 Notre Dame and at home against unranked Western Michigan, the Ramblers had a really excellent season.
Kladis scored 1046 points from 1949-52
Led by Loyola legend Nick Kladis in his senior year, on January 10, 1952 the Ramblers knocked off #12 St. John's at their big game home court, Madison Square Garden. St. John's went on to play in that year's NCAA Tournament Final. Later in the season at Chicago Stadium, the Ramblers beat #18 DePaul and #14 Seton Hall. Loyola also staged a home/road sweep over Marquette, beat Xavier in Chicago, and went on the road to successfully avenge their early season loss to Western Michigan.
Along with Kladis, the '52 Ramblers featured three other double-digit scorers: 6'7" center Don Hanrahan (16.7 ppg), guard Ed Maracich (12.4 ppg), and 6'0" forward Bill Sullivan (10.0 ppg). By the end of the year, Kladis finished his career with 1046 points, becoming the third Rambler to top the 1000 point mark– joining Jack Kerris (1556) and Ed Earle (1018). Kladis was selected in the 1952 NBA Draft, created the hugely successful One Stop Foods (remember the late-night commercials on WGN?), had his number 3 jersey retired by the Ramblers, and became a minority owner of the St. Louis Cardinals before passing away in 2009.
In 1952, the NCAA Tournament was one year from bumping up to 16 participants while the NIT had 12. Some teams still competed in both tournaments (Dayton and St. John's, for example, in 1952). The NIT Final Four in 1952 were all future A-10 teams: Dayton, Duquesne, St. Bonaventure, and eventual champion LaSalle. With only 26 teams playing postseason college basketball, (Dayton and St. John's counted twice), the '52 Ramblers were a bubble team that year whose bubble burst in both tournaments.
No. 13
The 1949-50 Loyola Ramblers: Tough Schedule, Last Hurrah for Many Seniors
17-13
The Ramblers under Coach Tom Haggarty (1945-50) started off playing against some ad hoc amateur teams in the aftermath of WWII as returning veterans went back to college or sought other avenues for sports competition. Military training bases, YMCAs, and athletic clubs fielded basketball squads that often faced off against even Division I teams as society got back into shape.
Loyola had some great records (sometimes against teams with makeshift lineups) in the early years, and advanced to the point where Loyola was one of the top programs in college hoops once again. Haggarty was a former DePaul Head Coach and Athletic Director who bailed to coach Loyola and rebuild the program after the War.
You see, Haggarty left DePaul in 1942 to join the Army. Ray Meyer got his coaching spot and went to the NCAA Final Four in 1943, reached the NIT Final in 1944, and won the NIT in 1945. Loyola had shut down their program during those years. When Haggerty got out of the Army in 1944, DePaul gave him the position of Athletic Director and kept Meyer as Coach. The next year, Haggerty jumped across the North Side and accepted the challenge of re-instituting the Loyola program as a coach and recruiter.
Haggerty got a real star—forward Jack Kerris, who was far and away the all time leading scorer at Loyola until the game changed in the 1960s. The 1950 team was Haggerty's last in Chicago– he had health problems and went South to Loyola New Orleans. He died in New Orleans at the age of 51 in 1956.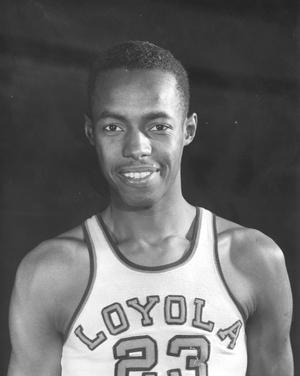 The 1950 Ramblers had five high-scoring seniors (Ralph Klaerich, Ed Earle, Ed Dawson, Ben Bluitt, and Frank O'Grady), plus sophomore star Nick Kladis. Even though the team finished a middling 17-13, they beat #19 Oklahoma State at home, and Marquette, Syracuse, and Bowling Green on the road. They took #1 Holy Cross down to the wire on the road, losing 53-48. The team won 8 of its last 9 games down the stretch, including completion of a neutral sweep over DePaul and a home-road sweep over Dayton.
Yes, there were a lot of losses, but they were "quality losses," 65 years before the term was invented: they lost at #1 Holy Cross, at #14 CCNY (who won both the NIT and NCAA Tournaments that year), at St. Bonaventure in Buffalo, at Notre Dame, and at home against #8 Duquesne.
After losing the NIT Title game by 1 point the year before, this team– the first team put together after the total dissolution of the program in 1943– took a glorious victory lap against the country's most challenging foes. But if you think this ranking is just sentimentality, the good record against the strong opponents earned the 1950 team the 10th highest SRS in program history.
No. 12
The 1967-68 Loyola Ramblers: Undersized Overachievers
16-9 Overall
The 1967-68 Ramblers had some great talent. The two top scorers were 6'5" senior center Jim Tillman and 6'4" forward Corky Bell. Six-foot-four sophomore Wade Fuller was also a double-digit scorer, but those were the three tallest players on the entire roster—no one over 6'5".
Sophomore guard Walter Robinson– a star player who would score 1297 points in his career at Loyola, and younger brother of Harlem Globetrotter and former Rambler Pablo Robinson—scored 13.7 per game in his debut season. Two 5'11" senior guards, Doug Wardlaw and Art Oates got significant playing time along with 6'4" backup center Coak Cannon.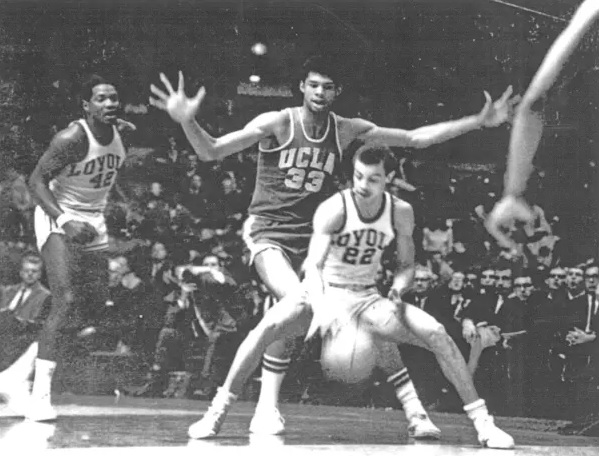 Despite their diminutive stature, the overachieving '68 Ramblers beat the likes of Kansas, Georgia Tech, Marquette, San Francisco, and BYU. They went 3-2 against tournament teams, and at 16-8 on selection day, were probably were the last team in.
As a reward for a just-barely-good-enough-to-make-the-tournament season, Loyola was matched up with undefeated #1 ranked Houston in the play-in round, a team with arguably the nation's best player that year, 6'8" senior Elvin Hayes (1968's NBA #1 Draft Pick). The Ramblers lost 94-76, and would not return to the NCAA Tournament for 17 long years.
No. 11
The 2021-22 Loyola Ramblers: Super Seniors in MVC Swan Song
25-8, 13-5 Missouri Valley (Tied 2nd Place)
Four super seniors coming back for their last go-around and two Ivy League grad transfers led an experienced squad under first-year head coach Drew Valentine. But a curve ball put the whole season a little off balance right from the beginning. On Nov. 16, just before the third game of the year against Chicago State, it was announced that Loyola would move to the A10 in the 2022-23 season.
At first, the news was just a bit shocking. Loyola had prospered excessively in the MVC, and in many eyes, the A10 was not a significant enough jump in prestige or competition to warrant jeopardizing a solid footing. But the MVC had recently announced that Belmont would be joining the league in 2022-23, and there were likely more additions to come.
By the time the conference season rolled around, the rest of the MVC– through podcasts, message boards, Twitter, and other means– started to coalesce around a fervent "Beat Loyola" theme. The Ramblers were never really accepted by many stalwart MVC fans. Wichita State fans cited Loyola joining the conference as one of the biggest factors in their exit from the conference in 2017. Their constant complaining and degradation of Loyola on the message boards was sometimes shared by others.
Whether it was Big City hatred by a largely rural Midwestern conference, the anti-Loyola drumbeat by Wichita State fans for four years, or resentment that Loyola might want to leave a conference where there were many fans of other teams who were hostile– the MVC came together as one to pack their arenas and fire up their fans to send Loyola out with a loss. By the time it came down to the conference regular season championship game, everyone in the MVC (including the refs) were rooting for Loyola's demise. The game that decided the regular season championship was an OT affair at UNI with a jam-packed arena, where UNI got 42 trips to the foul line against the team known to be careful about fouling.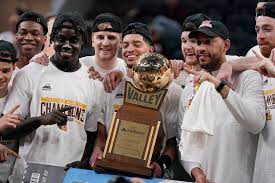 The four super seniors (Lucas Williamson, Tate Hall, Keith Clemons, and Aher Uguak) and transfers (Chris Knight and Ryan Schweiger) on the '22 Ramblers might have earned an at large bid with a KenPom ranking in the high 30s, an AP ranking of #22 in mid-January, and non-con wins over P6 teams like Arizona State, DePaul, and Vanderbilt. But the emphatic Arch Madness statement wins (including a 23-point beat down of putative MVC regular season champion UNI, holding them to 9 points below their previous season low in scoring) earned Loyola a 10 seed in the NCAA Tournament.
Unfortunately for the Ramblers, an under-seeded Ohio State team returned key injured players to their roster just in time for the tournament and too many Loyola shots caught the rim the wrong way, resulting in a very ugly 54-41 first-round loss. It was the last college game for all the super seniors.
Watch for the top 10 teams in Loyola men's basketball history coming next week. Comment on the message board at www.ramblermania.net/forum