Wednesday, February 14, 2018 7:00 p.m.
Gentile Arena, Chicago, Ill.
Loyola returns home for their penultimate regular season home game of the year against Valparaiso on Wednesday night, just a win or two away from clinching a league title and postseason tournament berth. At 21-5 overall and 11-3 in conference, the Ramblers are enjoying their best season since 1985 and have already surpassed some long-standing high-water marks. A win would cut Loyola's magic number to win the conference outright to 2.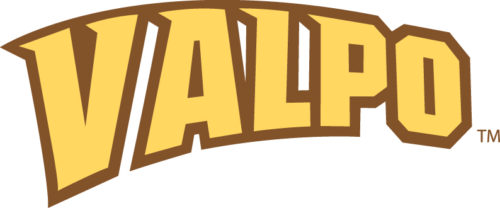 The visiting Crusaders are coming off a 74-58 home win over an Illinois State team riddled by injuries. Valparaiso started off the season with an eight-game winning streak capped by a win in the MVC/Mountain West Challenge over Utah State. But an illness and an academic disqualification to their top two players sent the Crusaders into a funk. They lost seven out of their next eight games overall–
including their first three league games– before getting their first two conference wins. Then they lost another seven of eight before getting a W against the Redbirds last Sunday night. At 4-10 in conference, Valpo still has a good chance to top Loyola's 4-14 inaugural season in the MVC.
Coach Matt Lottich's crew starts three 6'2" guards—seniors Tevonn Walker and Max Joseph, and sophomore Bakari Evelyn. Seven-foot-two sophomore center Derrik Smits and 6'8" freshman forward Mileek McMillan start in the frontcourt. Walker is the team's leading scorer (14.7 ppg), top rebounder (4.8 rpg), and best defensive player. He is really quick, very streaky, and often dictates the energy for the entire team. Sophomore Bakari Evelyn is the only Valpo player to start every game this season, and Is the 2nd highest scorer at 12.6 per game. Joseph is a solid guard who plays great defense; he averages 7.4 ppg. Freshman Micah Bradford, a 6'2" point guard, comes off the bench for about 15 minutes per game and has the team's best assist to turnover ratio; he averages 5.2 points per game.
At 7'2", Smits' 7.4 points and 3.6 rebounds per game in just under 20 minutes on average doesn't tell the full story—he's very good at rim protection, but leads the team in turnovers with 57. Backing him up off the bench is another 7-foot sophomore, Jaume Sarolla, who averages 4.6 points and 3.3 rebounds while leading the team in blocks. McMillan starts and averages 3.0 points and 1.4 rebounds, but plays only about 10 minutes per game. Sophomore guard/forward Markus Golder plays most of the time in the role of the four, averaging 8.8 points and 4.1 boards.
The most important thing when playing Valpo is controlling the tempo. The Crusaders haven't won a single game this year while scoring under 69 points. When scoring 69 points or more, the Crusaders are 13-3, and when scoring less than 69, they're 0-11. In their last matchup on Jan. 21, Loyola beat the Crusaders in front of their largest crowd of the year, 70-54. Clayton Custer led Loyola with 18 points, five assists, and four steals as six Loyola players scored eight points or more. Bakari Evelyn scored 17 of his game high 19 points in the second half. The Ramblers made only eight turnovers for the game and won the rebounding battle 34-27.
Valpo leads the league in steals, and they use their quick hands on defense to spark their offense. They have forced the most turnovers in the league, but also committed the most turnovers in the league. Taking care of the ball and making the Crusaders work hard late into the shot clock on every possession is key to beating them.
The Ramblers gutted out a 75-71 win at Indiana State on Saturday. Loyola shot 63.6% from the field in the second half to overcome a five-point halftime deficit and 17 ugly turnovers for the game to earn their 11th conference win. Eleven wins is the most in conference since the Ramblers' all-time high of 13 in 1984-85. Twenty-one overall wins ties the 2006-07 team for the most wins since 1984-85, and there are still four regular-season games and up to three conference tournament games to go.
Loyola game notes: http://www.loyolaramblers.com/documents … df?id=5857
Valparaiso game notes: http://cdn.streamlinetechnologies.com/v … _Notes.pdf
TV/Streaming video: ESPN3 / http://www.espn.com/watch/_/id/3273446/ … basketball
Stats: http://stats.statbroadcast.com/broadcast/?id=189604
Vegas odds: Pending